8 Places With Offbeat Christmas Traditions
Christmas, Christmas traditions
Source: Reiseuhu, Unsplash
Every family has their weird traditions at Christmas, whether it's dressing your dog as Santa, hiding the Elf on Shelf, or whatever it is your Aunt Trudy's putting in the eggnog. Every culture has its own way of celebrating. Here's a look at what's happening around the world as Christmas day nears.
If your family needs a new tradition, cozy up in front of the fire and play your favourite games at Spin Casino online, for a truly winning holiday custom.
1. Caganer: Catalonia and Andorra
Check out a nativity scene in Catalonia or Andorra and you might find an unexpected figure of a kid off in a corner, squatting down to poop in the snow. No one really knows why, but this one's been around for hundreds of years, and it's spread to Spain, Italy, and Portugal, too. If your nativity needs an update, you can buy all sorts of Caganer figures, including celebrity lookalikes.
2. Mari Lwyd: Wales
For a different kind of Christmas carol, head over to Wales around Christmastime and you can see a sort of cross between a Christmas rap battle and a comedy roast. A giant horse puppet, often made of a horse skull and a sheet, with someone working it from underneath, arrives at the pub, then the rhyming battle begins. This odd custom comes from pagan traditions that predate Christmas itself.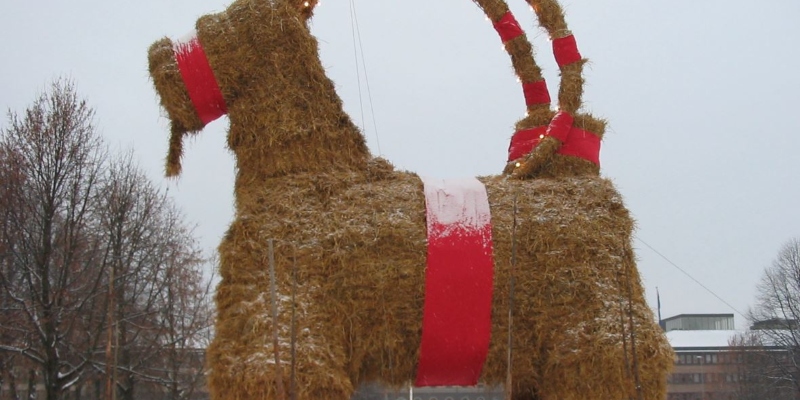 Source: Baltica, Wikimedia
3. The Gävle Goat: Sweden
Sweden's tradition is one for the hooligans. Building on the story of Santa's Yule goat, who helps deliver presents sometimes, the town of Gävle decided to construct a giant straw goat in the middle of town. When some tricksters burnt it down, a tradition was born, and every year since, no one knows if it will sticks around until Christmas. The goat has been destroyed 35 of the last 50 years.
4. Christmas Shoes: Germany
In Germany, the equivalent of the Christmas stocking is actually the whole shoe. On December 5th, kids around the country leave their shoes outside their rooms and receive a shoe full of candy if they've been good…or a branch if they haven't. (Better put out your tallest boots if you've been good.) Other countries have Christmas shoe traditions, too. In the Philippines, kids leave their clean shoes and socks on window sills for the Three Kings to leave them gifts.
5. Banana Trees: India
In India, the folks who celebrate Christmas have a hard time finding traditional evergreen trees to decorate because of the climate. So they have to get resourceful, which means you're likely to see a banana or mango tree lit up for Christmas instead.
Source: Enfo
6. The Pooping Log: Catalonia
Remember the Caganer? Turns out Catalans have a few stinky Christmas traditions. The Caga Tió (Pooping Log) is maybe weirder. It starts with a craft project, but not your usual Pinterest stuff. Kids get a hollow log and give it a smiling face and a hat, then spend a few weeks feeding it things like fruit, nuts, and candy. On Christmas Eve, they beat it with sticks and it "poops" out some treats. Families sing a song as they hit it, telling it to give up its goods…because everyone wants some chocolate pooped out of a log, right?
7. Mattak and Kiviak: Greenland
If you're still a little grossed out from the poop log, how about this? In Greenland, kids eat mattak and kiviak around Christmas—and you probably won't want the recipe. If you're feeling adventurous, you can make mattak by chopping up some raw whale skin with a bit of blubber still attached. Or if you have time to plan ahead, prepare some kiviak. Just wrap a bird in seal skin, bury it for a few months while it ferments, then eat up.
8. Kentucky Fried Chicken: Japan
If you're looking for some more palatable Christmas fare, you can get the old familiar Kentucky Fried Chicken all the way in Tokyo. It's been a Christmas tradition there since KFC's marketing campaign in the 1970s that got everyone eating "Kentucky for Christmas". The fast food joint sells five times its usual amount of chicken as locals flock to get their favourite Christmas treat.
No matter where Christmas finds you this year, you can bring some Christmas cheer to your house with your favourite casino games. Best served with a side of gingerbread and hot chocolate.