How To Pop The Question
From simply getting down on one knee to big gestures and grand statements, there are no shortage of ways to pop the big question. Indeed, the art of the proposal has become as important as the question itself in many cases, with people searching for Instagram-worthy ways to win the heart of their beloved. The results are equally varied, with people going viral for their beautifully romantic settings, their quirky and one-of-a-kind set-ups and their epic fails too. While you and your partner may love whiling the hours away with your favourite online casino, a moment like this calls for something altogether more sweeping! Here are some of the top proposal ideas and a helpful rundown on what to do (and not to do!) when planning your proposal.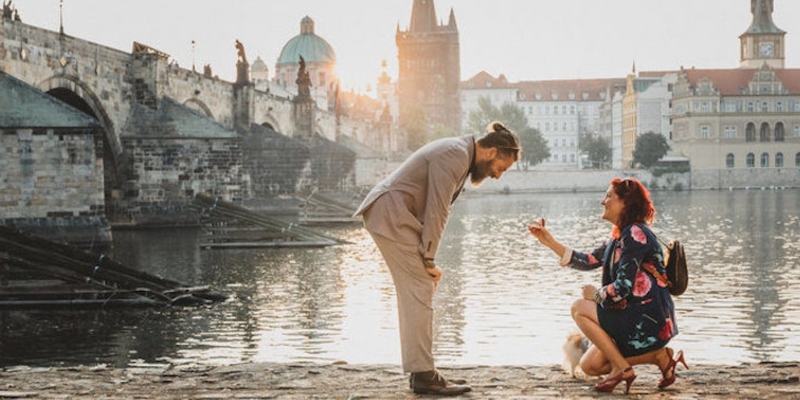 Source:Elite Daily
A Little Romance Goes a Long Way
It should be obvious that romance is at the heart of every good proposal idea. Think of your favourite rom-coms and the grand gestures that tug on all of our heartstrings and what do you remember? Dazzling sunsets, long strolls along the beach, spectacular vistas of famous sights and landmarks; the list goes on and on. Why not take advantage of some of the local natural wonders with a romantic sunset hike? Time it just right and you'll hit your destination right as the radiant reds and staggering oranges and yellows hit their peak, providing the perfect backdrop for your big question. Add a personalised extra layer by choosing a spot that means something to you both: a park where you enjoyed a picnic together, the spot where you first met, or somewhere that holds a deep-seated significance in your relationship. With the sunlight on your side and the sumptuous setting in your corner, all that's left to do is pop the question.
Why not try exploring the scenery from another angle? Take to the skies in a hot air balloon and watch as rolling fields and rocky hills pass below your feet. Pop a bottle of champagne, toast to your relationship and, when you reach your highest point, ask the fateful question. What could be more romantic than soaring through the skies with the person you love by your side? That's easy. A proposal in the heavens, of course!
A Proposal to Remember
Some couples pride themselves on out-of-the-box ideas and keeping ahead of the curve. A run-of-the-mill proposal isn't on the menu where these couples are concerned, which means that unique and bespoke thinking is a must. One of the most personal, inventive and fun ways to do this is with a scavenger hunt. Plant clues at places that mean a lot to you (that restaurant you both love, the hotel where you spent your first anniversary, that shop you stroll through on rainy afternoons) and let your loved one enjoy a walk down memory lane, culminating in the main event. This will put them in a romantic mood, but make sure to end on a high: choose your final spot wisely, one that will really take their breath away.
If your partner is a very visual person, make sure to factor that into your proposal. There are plenty of fun and creative ways to get engaged, so choose the one that fits your relationship best. Arrange their favourite flowers throughout your home, ending with a colourful and aromatic display reading "Marry me". Paint a picture, make a scrapbook or write a poem, whatever you think will steal their heart away. These personal touches are what really make a proposal memorable and will provide you with something to treasure and look back on as the years go by.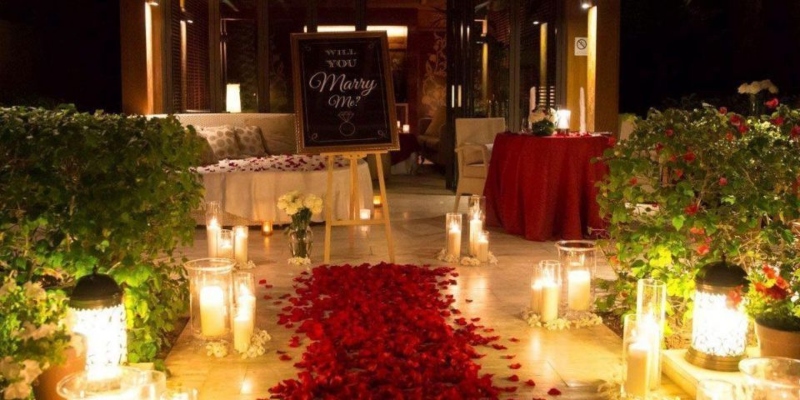 Source:Arabian Business
The Wrong Kind of Proposal
A simple, creative and romantic approach to proposing makes a big difference, but some people can't help trying (and failing) to go for the big gesture. That's all well and good, but, more often than not, complicated proposals end in embarrassing and outright cringeworthy displays. Think about people asking their partner to marry them at public events, like football games, awards shows and concerts. Sure, the pay-off is great when the answer is yes, but a no in front of huge crowds of people can leave everyone feeling awkward and you feeling heartbroken.
If you're intent on something big, flashy and public, make sure you've got the details down. A scavenger hunt that your partner can't solve leaves you holding the ring at a lush, romantic location and them frantically running around town, trying to figure out where they're supposed to be. If you're going with sky-writers or signs, take a second look at spelling and make sure everything's in order (a row of signs saying, "Will you me marry?" doesn't spell romance in any language!). But, perhaps best of all, keep in mind who your partner is and what makes you guys special together. A big artistic proposal means nothing to someone who likes the simpler things, while a long hike to a romantic location is more likely to wind the sport-averse than take their breath away!
Source:Youtube