Spin Casino Online Is Celebrating Christmas!
Christmas, Traditions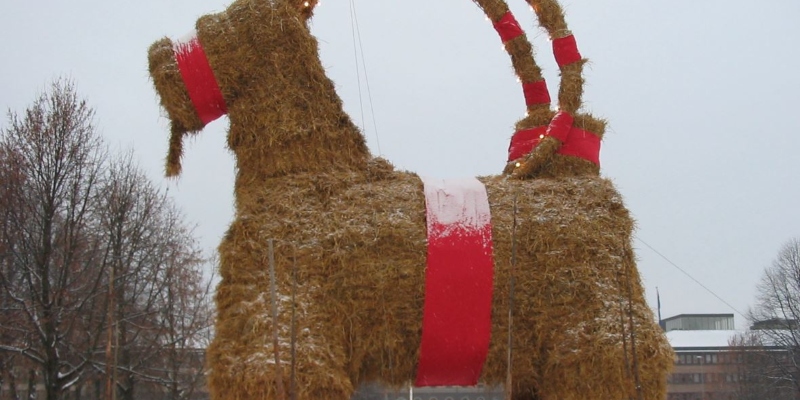 Source: Baltica, Wikimedia
It's the silly season upon us again, and we are excited to bring your stories about different Christmas traditions from around the world! There are many ways to celebrate this beautiful holiday and we are really thrilled to share them with you while you are taking a break from playing online games at the Spin Casino Online, New Zealand's favourite online casino.
Mari Lwyd, Wales
Mari Lwyd is an old midwinter celebration in Wales, which dates back to the pagan celebrations before the Roman times. Mari Lwyd means "grey mare" in English. In its purest form, which can be enjoyed at Llangynwyd, near Maesteg, the horse and its party arrive at the doors of a pub or a house, where they sing a few verses. Then a battle of wits ensues, in which people inside the house and the horse party exchange challenges and insults, in rhyme! The battle continues for as long as the creativity of the two parties holds out, and in the end, the Mari party will enter the house or the pub singing another song. The horse is actually made from a horse's skull, attached to a pole, with sheets draping over the person who is holding up the pole. Sometimes they even make a mechanism to work the horse's jaws!
Gävle Goat, Sweden
Every year, a town in Sweden celebrates Christmas by putting up a giant straw statue of a goat. Then the whole town waits with baited breath and places bets on whether the goat will make it to Christmas day… because the other tradition is that someone will always try to burn the goat down! It's amazing, but in the last 50 years, the Gavle Yule goat has been destroyed 35 times! The town, however, does not give up or stop using traditional straw. We think it's some kind of national sport!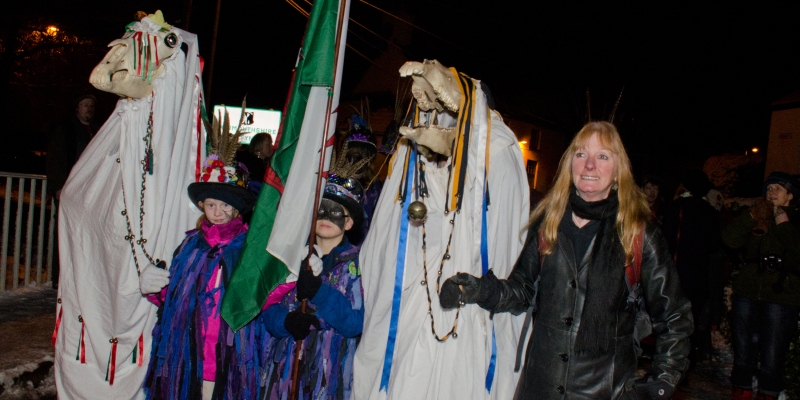 Source: thewidders.co.uk
Kentucky Fried Christmas Dinner, Japan
Most Christmas traditions have been imported to Asia from the West, however Japan took it one step further and turned the holiday into a commercial and dating scene. Christmas celebrations have been given a romantic slant, and it's the day to spend with your sweetheart or spouse. And, for some reason, Kentucky Fried Chicken is the place for the romantic date – you might even have to book a table if that's what you gets you excited!
A Christmas dinner you'll never forget, Greenland
Next time you want to complain about your granny's brussel sprouts, remember the poor children in Greenland! A traditional food at Christmas in Greenland is mattak – raw whale skin with a little bit of blubber still attached, and kiviak, which is made by wrapping an auk (a small bird that lives in the Arctic) in seal skin, and burying it for several months, until it's ripe and "ready to eat"!
Spider webs, Ukraine
In the Ukraine, people decorate their houses and the Christmas tree with traditional tinsel, baubles and fairy lights… and spider webs. Artificial, of course! This tradition goes back to an old story about a poor woman, who couldn't afford to decorate her Christmas tree. She woke up on Christmas morning to find her tree sparkling in sunlight, as it was covered in a gloriously fine, sparkling cobweb. These days, people decorate their trees with artificial cobwebs for good luck.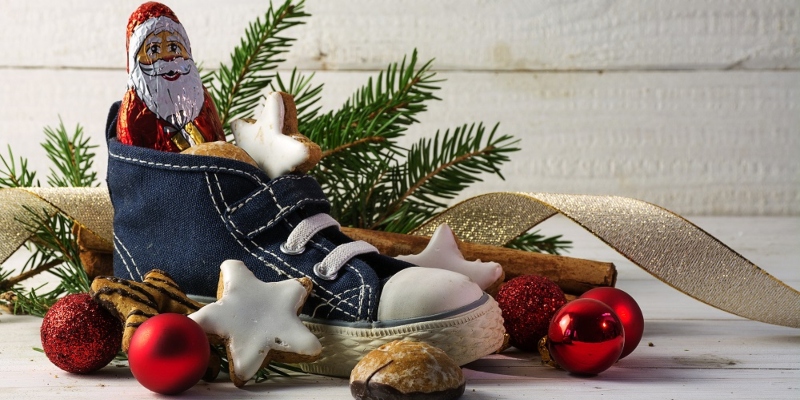 Source: German Girl in America
Consoda, Portugal
In Portugal, during consoda (the traditional Christmas feast), some families set extra places at the table for deceased relatives. It is believed that this will ensure good fortune for the household in the coming year. In some places, people leave crumbs of food on the hearth as well. (And you thought that feeding your living relatives was difficult enough!)
Fill up your shoes, Germany
Finally, there is a sweet little tradition in Germany, where on the evening of 5th December, children will leave a shoe or a boot outside their bedroom door. If they have been good, in the morning their shoe will be filled up with sweeties, but if they've been bad – they will only find a small tree branch.
We hope you enjoyed finding out about the many exciting ways you can celebrate this holiday – we have certainly enjoyed researching them! Perhaps you and your family will be inspired to start a new tradition this year! Merry Christmas and Happy New Year to you from everyone at the Spin Casino Online!