Enter The World Of Fantasy And Magic With Fortress Charge
Entertainment, Gambling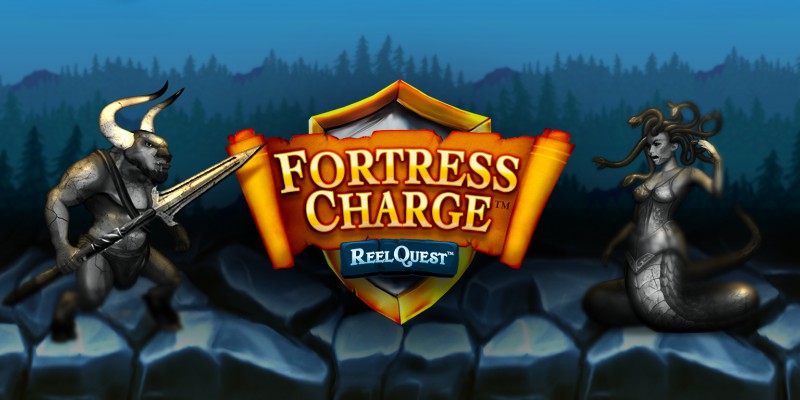 Source: Crazy Tooth Studio
Humans have always loved fantasy and magic. Some of the oldest surviving texts in existence, such as the Epic of Gilgamesh, Iliad and Mahabharata, revolve around the fantasy genre. Some argue that fantasy is nothing more than escapism, while others believe that fantasy fulfils more complex intellectual demands.
Instead of trying to deconstruct fantasy and talking in abstracts, we should instead speak about Fortress Charge, a fantasy-themed online slot game that will definitely evoke the sense of wonder in you.
Produced by iGaming giant Microgaming and developed by well-regarded game developer Crazy Tooth Studio, Fortress Charge is a wonderful blend of fantasy, magic and adventure that will take your breath away. It will be officially released on 11 June 2020, and the buzz is already growing about the much-anticipated game. So keep your calendar open and schedule a visit to Spin Casino's online casino to give the game a try.
Fortress Charge Theme And Concept
Among the hundreds of fantasy-themed slot games, we could probably count on one hand the number of games on any online casino that could approach the production level of Fortress Charge. The game's developers have really outdone themselves on the visual aspects of the game.
The images used are sharp, the designs unique, and the colours vivid. You won't see pixelated icons typically seen in slots online games being used here. This level of detail is bound to help improve the immersion of players into the game environment.
Perhaps the most notable elements are the icons used for the reels. The developers crafted twenty different high-quality icons to help with the game's unique gameplay. All appear to be original and artfully crafted images which stand in sharp contrast the background image of a fortified stone wall. The images even have shadows!
The game icons are divided into three categories, which are:
• Heroes, which comprise of dragons, elves, dwarfs, knights, and Minotaurs
• Villains, consisting of sinister-looking boulders, scorpions, spikes, ogres, and Medusa-like creatures
• Accessories, which include treasure chests, wands, spears, shields, and fire potions
We dare say that these images would not look out of place in a cartoon or comic book!
Features And Gameplay Of Fortress Charge
The primary attraction of Fortress Charge lies in Reel Quest, a one of a kind quest-based game engine. Crazy Tooth Studio have outdone themselves with Reel Quest – there's probably no other comparable game in the slots online world.
Reel Quest is basically a race to reach the sixth reel on the right. All hero or villain avatars can only shift one slot to the right per spin, so the closer you start, the easier it is to win. The game avatars can shift directly if the reel next to it is empty. However, if it has a hero or villain, then you have to engage it in a battle. Victory will allow you to shift, while a defeat means it's the end of the game for you.
Players can collect accessories such as a spear or fire potion to improve their odds of winning. Additionally, if the victory takes place between reels three and five, you will earn bonus multipliers valued between 2x and 4x. These little multipliers will add up over time!
Fortress Charge offers players three winning paylines. However, players can earn additional amounts of money by defeating a specific combination of adversaries. For instance, a victory over the villainous boulder is worth €1.20. A combo victory by a heroic dragon over an ogre and spikes will net you €100.00.
The base reward for completing the fortress on the first row is €15.00-€21.75; the second row is worth €22.50-€112.50; the third row is valued at €150.00-€1,500.00.
Kindly note that in the event of malfunctions, such as disconnection or user-side software issues, all plays and prizes will be voided.
Math Characteristics Of Fortress Charge
Fortress Charge is a high risk and high yield game. It is very volatile and the total hit frequency is only 12.32%. However, this is balanced by the relatively high RTP (return to player) rate of 96.45%. So while the frequency of wins might be lower, the winning amount will be higher than average. In fact, a maximum bet of 15.00 credits could potentially earn a 240,000 credits windfall. That's a 16,000x return!
Although the default bet value is 1.50 credits, the minimum bet value is pegged at 0.10 credits, so you have plenty of wiggle room. The default (and recommended) coin size is 0.01, so there is a lot of betting flexibility.
Crazy Tooth Studio has included a free version of the slot game to help players familiarise themselves with the game. Use this option before committing real coins in the game. If you have any questions, the support files come in 31 languages.
While we can never predict the success of games, Fortress Charge seems well poised to become one of this summer's biggest hits!