11 Champions Will Cure Your Football Blues
Entertainment, Gambling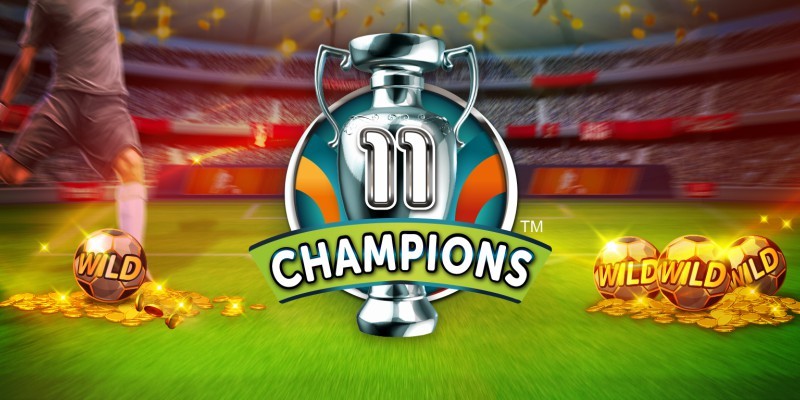 Source: Microgaming
Football is without doubt the most popular sport in the world. To get an idea of the popularity of the sport, consider this fact: in 2018/19 season, the English Premier League alone was broadcast into 1.03 billion homes across 188 countries and drew a TV audience of 3.2 billion viewers. This figure is larger than the combined total viewership of NBA, MLB, NFL, NHL and MSL!
To further illustrate the point, the viewing figure of the last FIFA World Cup in 2018, hosted by Russia, was 3.572 billion – larger than the 3.2 billion drawn by the 2016 Rio Olympics, which involved 28 different sports!
So now, you can imagine the impact that the temporary closure of the European football leagues has had! Tens of millions of football fans from around the world are suffering from acute withdrawal symptoms; their days and nights are filled with thoughts of football.
We understand how you feel, which is why we're very pleased to announce the release of Microgaming's 11 Champions at Spin Casino's online casino. This action-packed football-themed video slot game will tide your over until football resumes its normal schedule.
Theme And Art Design Of 11 Champions
iGaming giant Microgaming makes a stylish entry into the football niche with 11 Champions, a brand-new all-action slot game that will appeal to football fans and slots online aficionados alike. In anticipation of its official unveiling on 2 June 2020, we'll be taking a closer look at this innovative five reels and three rows slot game.
Right off the bat, you will be greeted with a distinctive, yet familiar-looking football and trophy icon after launching the game, as well as the sight of a packed stadium. This will certainly get you in the mood!
Next up, is the reel symbols. As you'd imagine, the images on reels are all related football. They include jerseys (bearing the iconic number 7 no less, once worn by the likes of Garrincha, Kenny Dalglish and Luis Figo). The symbol used for the Wild reels, meanwhile, is the iconic Adidas Telstar black and white ball. A little bit of trivia – Adidas designed the ball to allow viewers at home to better see the ball.
But that's not all. The developers also offer players the option of customising the game's theme colour to follow their favourite team's kit colour. How cool is that? We dare say that this is unheard of in the slots online world! In fact, you'd be hard-pressed to find another slot game in any online casino that rivals this amount of detail.
Statistical Information About 11 Champions
11 Champions is a 5-reel and 3-row video slot game with four jackpots that offers players the opportunity to win up to 5,000X their wagers. The RTP (return to players) rate is a healthy 95.93%, and it is balanced by a slightly volatile hit frequency of 25.86%.
The game has 20 possible paylines, and winning sequences are calculated from left to right. Prizes are limited to a single win per spin, but the highest winning value will be awarded to players. All in all, the game offers a fair and consistent winning probability to players.
The game's default bet value starts at 5,000 credits (or 500,000 coins), but it can go up all the way to 250,000. Wagers are accepted in multiple denominations, ranging from 0.01 to 0.50. However, the default coin size is 0.1. All spins have a minimum default value of 0.20 credits or 0.01 coins, but this can increase to a maximum of fifty credits or five coins respectively.
Since Microgaming products are used all around the world, it comes as no surprise that 11 Champions offers support in 32 languages.
The game is designed to work perfectly on 16:9 screens, or those with resolutions of 1280 X 720 and 1136 X 640. It can be played on personal computers and mobile devices.
Highlight Features Of 11 Champions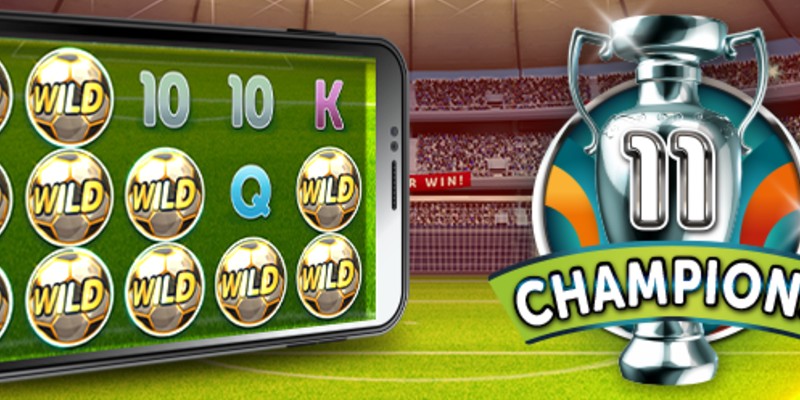 Source: Microgaming
11 Champions is a revolutionary game with many first-of-a-kind features. The two most innovative features though are:
• Jackpots
You can probably say goodbye to single jackpot slot games very soon. 11 Champions' novel four jackpots concept is bound to shake things up a bit. The four jackpots range from Mini (15.00) and Minor (40.00) to Major (200.00) to Grand (5,000.00) – and each comes with differing difficulties and multipliers. The jackpot stage is triggered when players' reels land three Scatter symbols.
• Action Reels and Respins
To earn a free spin on 11 Champions, players must first land on an Action Reel. Thereafter, players must convert the Action reels into marked cards (reels with gold frames) with passes and dribbles. When a player scores a goal, the marked cards will morph into a free spin with an 11X win multiplier. It might sound confusing, but trust us, it's riveting.
To get a hang of things, the game has a free play mode where players can play to their heart's content before they start using real money
So head on over to Spin Casino on 2 June and join us to play one of this summer's most exciting games!