Age Of Conquest - Epic Slots
Entertainment, Gambling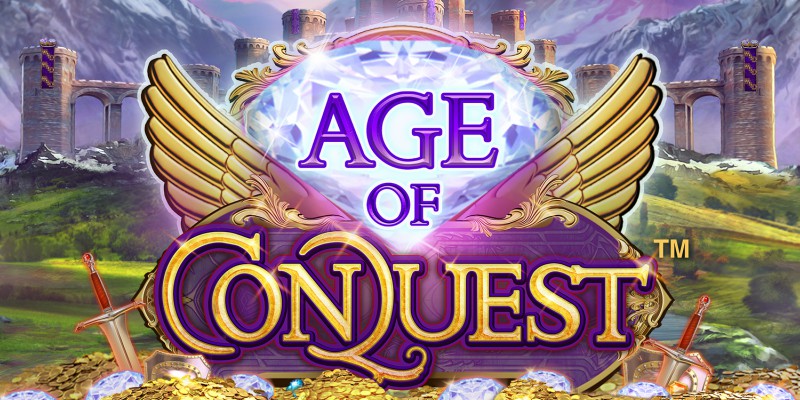 Source: Microgaming
Get ready for Age of Conquest, an exciting high-fantasy themed online slots title new to Spin Casino Canada. Online slots fans can expect epic fantasy action with the high level of quality that Microgaming and Neon Vallery Studios are known for delivering. Centered around an epic battle between good and evil, Age of Conquest boasts top-notch artwork and gameplay expected of a modern online casino slots game. Spin Casino Canada is the online home of this and many more online slots and table games like online Roulette and Blackjack.
A legendary slots adventure
The story behind Age of Conquest centers around the game's two main characters. The first, an elvish knight who leads the forces of light while riding his faithful horse companion. The other, a powerful sorceress who rides her mighty griffin and twists the forces of darkness to do her evil bidding. The two forces square off at an ancient castle at the foot of a mystical mountain to see who will take the castle and the treasure and glory within.
The fantasy theme runs through every part of Age of Conquest, and this includes the game's reel symbols. All of them are rendered in a beautiful and highly-detailed art style reminiscent of fantasy book covers and films.
There are the common online slots symbols of Ace, King, Queen, Jack, and Wilds. The handsome and noble knight and beautiful but deadly sorceress also feature as the game's high symbols. When these appear as stacked symbols the full artwork of each character is revealed in stunning glory.
The elf's armoured horse and the sorceress' griffin also feature as reel symbols, both fierce-looking. The weapons of the two characters also make an appearance. For the elven knight, his sword and shield, and for the sorceress, her magic potion. Another symbol in the game is the castle's glorious lion-headed throne which stands in as the game's Scatter symbol.
The final and likely most impactful symbol in the game is the diamond. Every diamond that lands on a reel is added to that reel's counter. A full Wild with two free spins is triggered for every two diamonds that land on a reel.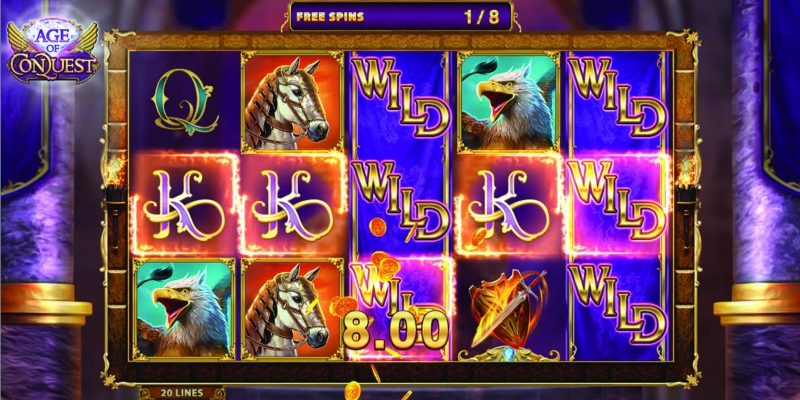 Source: Microgaming
Feature-rich fantasy
There are a number of interesting features that make Age of Conquest not only great to look at, but also smooth to play. Let's explore some of them.
Landing two diamonds on a reel is the key to triggering a Wild reel. When this happens all positions on the reel are automatically switched to Wild symbols for a duration of two spins. Wilds are able to replace any other symbol except for the diamond and the throne Scatter symbol. While Wild reels are active more diamonds cannot be collected.
The high symbols in Age of Conquest are the characters of the knight and the sorceress. When stacked these symbols have a much larger payout and also display their full artwork.
The game's Scatter symbol comes in the form of the lion-headed throne. This symbol only appears on reels 1, 3, and 5. Landing 3 Scatter symbols multiplies a player's bet by 2, adding it to the win lines, and gives the player a number of Free Spin options.
There are 3 Free Spin options available to players. The first of these is 2 Free Spins with 3 Wild reels per spin. The second option offers 8 Free Spins, but only 2 Wild reels per spin. The third and final option is 25 Free Spins of just 1 Wild reel per spin.
Wild reels randomly appear across the reels during every Free Spin. There is also a chance to land Scatters during these spins. These Scatter symbols appear beneath the Wilds and will be seen shining through from underneath. Landing 3 more Scatters triggers more Free Spins.
Getting through a full retrigger round could potentially multiply a bet by as much as 10 000 times.
An adventure by the numbers
Age of Conquest is a medium volatility, 5x3 reel slots game. The game sports a 96.14% payout percentage and a 27.30% total hit frequency. Every spin pays out from left to right across 20 possible paylines.
The default coin size of the game is .01, with a maximum size of 5. The maximum bet size is 200 while the minimum size is just 0.20.
Ready to journey forth
Age of Conquest is tailor made for slots players hungry for fantasy themed content with their gaming. It offers a richly-detailed fantasy style that speaks to the epic nature of the game's story and setting. Players who delve into the world of Age of Conquest will find that the developers have crafted the game with deep fantasy polish in every section. Spin Casino Canada is the place for this and more online casino games.