Don Bingote
Casino Games, Gambling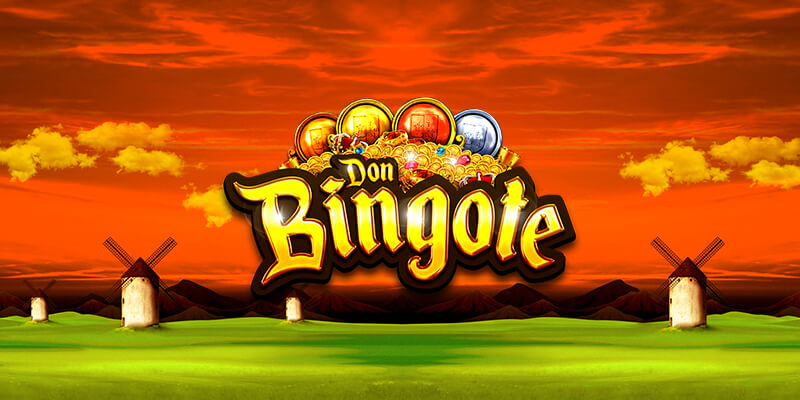 Inspired by the famous Spanish tale of Don Quixote, as well as the game of bingo, Don Bingote is an unconventional online slot that really stands out from the crowd. What's more, it's available right here at our very own Spin Casino, Online Casino Canada.
Developed by third-party provider Neko Games, exclusively for Microgaming, this highly entertaining and potentially rewarding video slot sees us joining Don Bingote as he journeys through La Racha: an unusual land with gold-filled windmills and jewel-laden castles. In addition, there are dazzling features like the Bingote Jackpots, Armour Bonus, Windmill's Monster Bonus, Diamantea's Castle Bonus, and Wind Balls.
Want to take a closer look? Let's go!
Gameplay Basics
A fantastic addition to our casino games at Spin, the bingo-inspired Don Bingote offers players the possibility to play with up to 4 tickets and buy up to 12 extra balls – to enhance their chances to win any of the 19 prize patterns and additional features, which we'll discuss in detail further below.
The game is available in desktop and mobile versions, including an extensive portrait view, so players can look forward to the same great looks and sounds regardless of the size screen they're using. What's more, splendid artwork is on display showing some of the most iconic events of the original Spanish tale.
An online and mobile casino slot with high hit frequency, Don Bingote has a 95.09% RTP as well as a jackpot feature with 4 possible prizes.
Set in medieval Spain and featuring a fantastical storyline, Don Bingote is delight from beginning to end. Now, let's cast our attention onto those features.
Jackpots And Wild Ball
One of our stand-out online slots, Don Bingote has lots to offer. Let's start with the Bingote Jackpots feature, which becomes active if all 4 tickets are enabled to play. A golden shield could be hidden inside each of the balls, with the total number collected by the end of the round letting one know what Jackpot prize has been won. Notably, 0-5 golden shields award nothing, but 6 will result in the Bronze Jackpot of 60x, while 7 and 8 golden shields award the Silver and Gold Jackpots, respectively – with the prize being 160x for the former or 1000x for the latter. The biggest jackpot is the Bingote Jackpot, awarding 5000x.
Now for the Wild Ball, which allows the player to daub any number that wasn't called in the enabled ticket, thus serving to possibly increases one's winning chances. So, whenever a player purchases an additional ball, there is the chance they'll receive a Wild Ball instead of the usual numbered ball.
More Fab Features
When it comes to the Armour Bonus, it's basically a picker bonus taking place inside Don Bingote's castle. Parts of his armour are being displayed, with each part hiding a potential prize or a Collect sign that ends the game. With hidden payouts of up to 1040x the player's bet, the aim is to get as many parts with prizes as possible.
Let's move on over to the Windmill's Monster Bonus – another picker bonus, this time with golden figurines hiding prizes or a Collect sign. This bonus game can award a possible fixed prize related to the pattern, so 900x, as well as an additional prize of up to 14 000x for the maximum prize of 2300x the bet per ticket value chosen.
Finally, we have Diamantea's Castle Bonus – a 5 level game with 4 windows per level. Each window will reveal a prize or a flock of birds. If a player gets a prize, they will move onto the next level, but a flock of birds will make Don Bingote stagger and possibly fall off the tower. If he falls, the bonus game ends, but if he doesn't, he'll get to move onto the next level. Players can score up to 1646x their bet, plus there is the possibility of an additional mystery prize. Exciting stuff!
Microgaming And Neko Games
Don Bingote is the result of a collaboration between revered game developer, Microgaming, and its third-party provider Neko Games. Microgaming has been producing high-quality casino games since 1994, making it one of the oldest, most established providers around. Renowned for delivering online slots with impeccable artwork, seamless gameplay, crisp-clear sound accompaniments, innovative features and simple navigation, Microgaming is also well known for working with smaller studios – like Neko Games, which focuses on games with a Latin American flavour.
At Spin Online Casino Canada
A bingo-inspired video slot, Don Bingote has a wonderful lead character and a host of enthralling features to keep players entertained. What's more, it's a delightful addition to the world of casino games here at Spin Casino.
Now Spin Casino, we've been around since 2001. A fully licensed and eCOGRA-certified operation, we deliver more than just great games – we provide players with trusted banking options, 24/7 customer care, exciting loyalty benefits, regular promos and more.