Golden Hook™ Review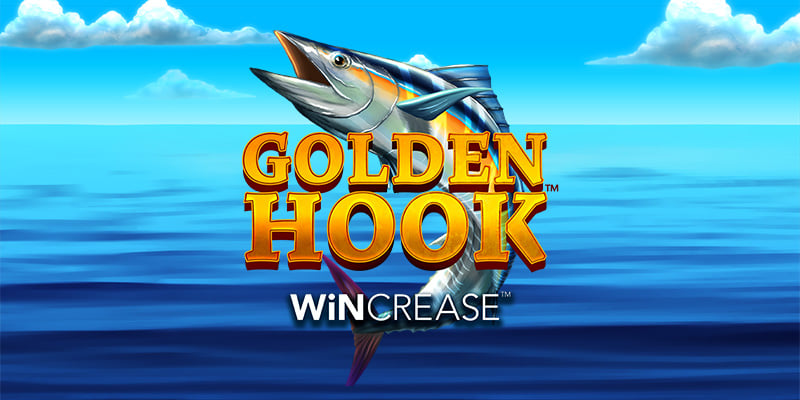 Head offshore and cast your line into crystal blue waters for a chance to reel in colourful fish – and exciting in-game bonus features. We're talking about the latest collaboration between software providers, Microgaming and Crazy Tooth Studios: Golden Hook™, available to play right here at Spin Online Casino Canada, with the unique WiNCREASE™ function in play. It's a real interactive game with Multipliers of up to 10x, and fish of all sizes swimming around to reveal  cash prizes if they're caught. More about this later though, because we're first going to look at how to play from the moment you log into your account and launch this online slots game.
Game Settings And Symbols
When playing casino games, especially online slots, you'll notice that most of the settings are the same, which is a good thing because you'll get familiar with these when playing a new video slots game. The only difference is that mobile casino players may have a slightly different layout than PC users, but that's merely for optimal play on mobile devices. The game settings in Golden Hook™ can be found on the right hand side, and include the spin button, bet size adjustments and a menu to launch the paytable and explanations on the bonus features, while your account balance information will be displayed on the bottom right. This is, however, where the similarities end, because the game is different from other slots, in that there are no paylines, but instead offers an interactive type of game, giving you the chance to cast your line and hook some fish. Golden Hook™ is a medium volatility game with bet sizes that range from a minimum of 0.20 to a maximum bet of 40 credits per spin, making it a great choice for both new and experienced players.
But it's really the theme and the in-game bonus features that are the main attractions here. Because Golden Hook™ has a deep sea fishing theme, you can expect to find most of the symbols depicting a variety of colourful fish, in all shapes and sizes.
How To Play
There are plenty of online slots to enjoy at Spin Online Casino Canada, but Golden Hook™ works slightly differently in that it offers a WiNCREASE™ function instead of the usual "push and play" style game. In order to start playing, simply hold down the spin button, which will basically cast your line. Once this has been done, one of three things can happen: a credit amount (ranging from 1 to 15 credits) may appear on the water, the hook may pop out of the water, or a bonus fish could attempt to bite the hook. Should the credit amount appear, you can hold the spin button down to increase the amount by up to 7303%, but be careful as the line could break at any time. Should you press "collect" at any time before the line breaks, the winnings collected from the fish caught will be added to your total balance.
Bonus Features
There are two special in-game bonus features when playing Golden Hook™, with the first being the Multiplier feature, which can be triggered at random. When this is done, any award that has been collected (that is, any prize from a fish caught), could be multiplied by up to 10x. The second feature is the Golden Hook™ Bonus, which can also be triggered at random. If a bonus fish appears during your game the Golden Hook™ Bonus could be awarded, and a credit amount or a random number of 2x Multipliers will be assigned. If the bonus fish is caught, the credit amount will be added to your total balance, and if the Multiplier is awarded, the bonus total will be multiplier by 2x.
Golden Hook™ may not be your ordinary online slots game, but it sure is something different and may just be the perfect distraction from the hustle and bustle of city life. And while it may take a while to get used to, it's a real treat once you start reeling in those fish.
Software Providers
Our main software provider here at Spin Online Casino Canada is the esteemed Microgaming, which has been creating casino games since it was established in 1994. From time to time, Microgaming will rope in third party software providers to create games for them, as is the case with Golden Hook™ when they partnered up with Crazy Tooth Studios. This third-party provider is already known in the industry and is notorious for quirky games offering a new and unique gaming experience for online and mobile casino players.
Available At Spin Casino
Ready to reel in a good time? Golden Hook™ is available to play right here at Spin Online Casino Canada, together with a variety of other online slots and casino games, including video poker, table games, scratch cards and live casino games. Our casino is fully licensed and eCOGRA-certified, and we offer a range of safe and secure deposit and withdrawal options. If you have any questions, you can contact our support team via live chat.
If you've enjoyed this review, be sure to check out some of our other online slots reviews as well, and keep an eye out for more as new casino games are released on a regular basis.