Miami Glow - Sunset moods
Entertainment, Gambling
Source: Microgaming
It's time to take a trip back to 1980's Miami with Miami Glow, a brand new online slots game from Snowborn games and Microgaming. The 2020's are out and the 1980's are back in this retro-themed title complete with neon colours, laid-back tunes, and all the 80's nostalgia anyone could want. Together with the streamlined and simple gameplay, Miami Glow is a relaxed slots experience built to suit casual gamers. Let's take a look at the design of Miami Glow, just one of many online slots and table games available at Spin Casino Canada.
Shining bright
As the name implies, Miami Glow is heavily inspired by the sunset coastal vibes of The Magic City. 1980s Miami was famous for its beautiful beaches and luxurious nightlife lit up by the glow of neon lights. It's a look that was made famous by movies such as Scarface, or TV shows like Miami Vice. The game's art style draws heavily on this neon glow, infusing all the symbols and interface of the game with it.
Miami Glow literally shines through the design of the game's neon elements. The designs twist and radiate as real neon signs would, popping off the screen against the dark black background. The developers even added a VHS filter to further sell the retro style and pepper the visuals with a healthy dose of nostalgia.
The retro theme even carries through the game's soundtrack. The original music for the Miami Glow is a throwback to the chiptune arcade tracks of the 80's. Snowborn Games' direction to the game's music composers was to imagine "driving along Ocean Drive in a Ferrari Daytona Spyder in the sunset". The result is retro chic music at its finest.
The music and visuals come together to inspire a sense of a 1980's Ocean Drive, Miami's hotspot for clubs, and bars alongside a swanky beachside strip. Casual slots players will find the vibe of Miami Glow appealing, The game doesn't blast the player with sound and visuals, but rather allows them to sink into the mood of it all. This makes Miami Glow a title that is both easy to get into and easy to stay into.
The neon symbols of Miami Glow really pop off the screen in the best possible way. Players can expect to find common online slots symbols like the Spades, Hearts, Diamonds, and Clubs. There are also unique symbols in the form of the diamond, the cocktail, the flamingo and the kiss. There are also Wilds, Sticky Wilds, and of course the Glow Bonus symbols for unlocking special features.
Retro style, modern features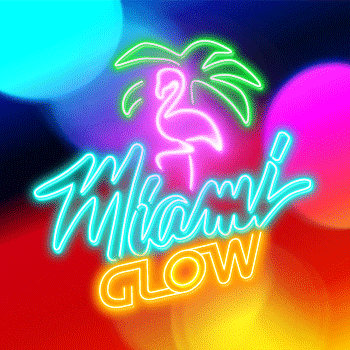 Source: Micrograming
Miami Glow is filled with exciting modern features that shouldn't be too confusing for casual players.
One such feature is the Wild symbols which are able to replace any other symbol except for the powerful Glow symbol.
There are also Multipliers which are applied at random to multiply potential winnings by either 1, 2, 3, 5, or as much as 10. These are applied during the base game as well as during the feature spins.
Feature spins, known as the Sticky Wild Respins, are triggered by landing a Sticky Wild symbol. Just like regular Wilds, Sticky Wilds can replace any other symbol except for the Glow symbol. These Sticky Wilds will remain in position on the reel until all respins have been played.
Glow symbols are perhaps the biggest game changers in Miami Glow. While they only occur on the 1, 3, and 5 reels, landing 3 of these symbols will trigger a special GLOW bonus round. A GLOW bonus round consists of 1 Free Spin with stacked Wilds and a guaranteed payout. GLOW bonus rounds cannot be retriggered and base game Multipliers are applied to all wins made during these rounds.
A look under the hood
Miami Glow is a 5 x 3 reels slots title with 10 possible paylines. Each spin plays across all 10 paylines and wins on multiple lines are added up and totalled. However, there can only be one win per payline per spin. As a high volatility title, the payout percentage for Miami Glow comes in at 96.09% with a 22.78% hit rate.
The game also features a maximum possible payout of 250 000 credits. This is possible only with a maximum bet size of 20 credits. The game's default bet size is f 2.00 credits but can go as low as 0.20 credits for the minimum bet. A default bet is able to pay out a maximum of 25 000 credits.
A glowing recommendation
For players looking for an easy-to-grasp slots experience with a relaxing mood, then Miami Glow is a pretty good bet. Miami Glow and many other online slots and casino table games are available online at Spin Casino Canada.