Atlantis: The Forgotten Kingdom
Online Slots, Review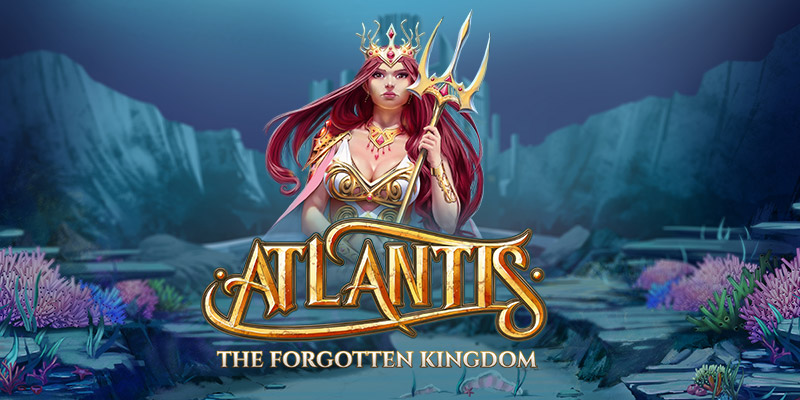 When it comes to the world of mobile and online casino slots, the themes we encounter can be incredibly vast and varied, with all topics covered from action and adventure to food, history and movie. The world of Greek mythology is one that we see pop up time and again, thanks to this particular pantheon's rich sources of inspiration, from its weird and wonderful legends to its powerful gods and goddesses.
The legendary lost city of Atlantis takes centre stage in Atlantis: The Forgotten Kingdom, a collaborative creation of both Microgaming and Half Pixel Studios. This mobile and online casino game can be enjoyed right here at Spin Casino. But, before we toot our own horn, let's take a closer look at this fantastical title and see what players can expect to uncover when diving in.
Gameplay Basics
Atlantis: The Forgotten Kingdom plays out across a grid comprised of 3 rows, 5 reels and the popular 243 ways-to-win mechanic, whereby payouts are awarded for landing corresponding symbol combos besides one another on the reels. With its decent betting range of between 0.20 credits and 30.00 credits per spin, the title is a great choice of online and mobile casino game for those who are new to the scene, as well as those who might be more familiar, but just want to take a break from wagering big amounts. The game is considered one of high volatility, and what this means is that, even though it may pay out less regularly than a low or medium volatility game, it will generally do so in larger increments than the former.
All of the necessary buttons required to play the game can be found on the right-hand side of the screen, but this may differ depending on whether you're playing the game on a PC, laptop, smartphone or tablet. Either way, the game has been optimised for all of the above, without any compromise in quality or experience.
Symbols And Features
The symbols you will encounter include the low-value A, K, Q and J, with the higher values denoted by the warrior, advisor, beauty and queen mermaids. Each of these mermaid symbols also has the ability to function as a Wild with a different Multiplier, whereby it will take the place of other symbols across the board to help you hit winning combinations – with the exception, of course, of the Scatter, a translucent blue pearl. On the right-hand side of the reels is a bonus reel, which will spin along with the others during the base game. Matching 4 of the same mermaid on the bonus reel will afford you a Wild of the same Multiplier value to land on a random position on the grid.
Landing a minimum of 3 Scatter symbols will trigger a round of Free Spins, of which there are 5 different options, each one associated with a different number of spins as well as Multipliers. Not sure which option to go with? The Mystery Free Spins will trigger a random combination of spins and Multipliers for you, taking the guesswork out of the equation.
Last, but certainly not least, each of the high-value symbols has the ability to appear stacked up to 3 symbol positions high when they land, further upping the ante of this charming title and ensuring an entertainment experience like no other.
The Software Providers
Microgaming has been in the industry of creating exciting online and mobile casino games since 1994, when they were first tasked with providing the world's first online casino with games – which they still do, to this day! Over the years, the provider has become a household name, thanks to its hundreds of slots, table games, video poker offerings and more. Every now and again, Microgaming partners with smaller independent studios to create marvellous things together, as is the case with Atlantis: The Forgotten Kingdom. Given what we know of Microgaming, as well as this glimpse of Half Pixel, we are confident that we will continue to see great things coming from these two providers.
Available At Spin Casino
If Atlantis: The Forgotten Kingdom sounds like the kind of online casino game you would enjoy playing, then you'll be pleased to know it is already making quite the splash here at Spin Casino. If you aren't already a member of this premium gaming hub, creating a new account is a quick and seamless process, and shouldn't take more than mere minutes. Plus, you'll be eligible for a very exciting welcome bonus offer, which can be used to start exploring the plentiful games on offer, Atlantis: The Forgotten Kingdom included.
Spin Casino has been in operation since 2001 and has two decades' worth of experience in the industry. As such, it has a focus not only on entertainment such as games and promotions, but security, too. For this reason, Spin Casino is fully licensed and registered, bears the eCOGRA seal of approval, is home to 24/7 customer care and offers only the biggest and most trusted names in online banking out there!