Aureus™ Online Casino Game
Online casinos, Slots, Microgaming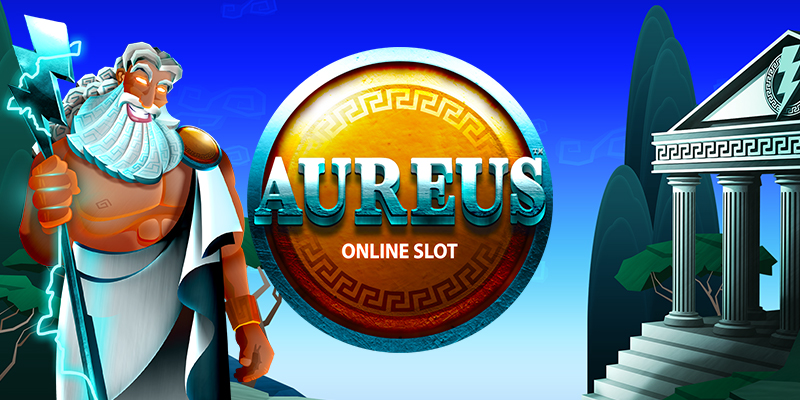 For more than 26 years, Microgaming has been creating exceptional online casino games, many of which are available to play right here at Spin Casino. A pioneer when it comes to delivering innovative, fresh and exciting online slots, new game releases by this respected software provider are generally met with a ton of excitement amongst gaming enthusiasts. The announcement of the Aureus™ online and mobile casino game was no different – what with its fun design and lucrative payout potential. Gone are the days when you had to travel far and wide to try out a selection of old-school slot machines. Today, Spin Casino brings the action to you, starting with the Greek mythology-themed wonder, Aureus™.
The Power Of Greek Mythology
There is something about Greek mythology that continues to captivate the world. With so many books, movies, TV series, and even online casino games inspired by this theme, it would only be reasonable to assume that you've seen it all. But, that's exactly where you're mistaken. The great thing about the Aureus™ online slots game is that it takes a popular theme and delivers an online gaming experience that is a little different from what we have come to expect from similarly themed games. The best part? This online slot is available to play on a laptop or PC, or via your Android, iOS or Windows mobile device.
Inviting All Player Levels
Players registering an account at Spin Casino for the very first time, or those who have never played online slots before, may be a little unsure as to where to get started. Luckily, Spin Casino's sleek and clutter-free webpage makes finding your way around the various titles on offer a complete breeze. What's more, the diversity of the gaming assortment means that there is something available to suit all types of playing preferences and levels. The Aureus™ online casino game does not offer overly complicated mechanics, and this makes it perfect for all types of players.
Symbols And Mechanics
Microgaming have taken a truly unique approach when it comes to the design of the Aureus™ online slot game. This title makes use of the innovative COINVERGE™ feature, which offers up a rather unique playing experience. When it comes to the game's layout, it is rather straightforward, providing gamers with a clutter-free and fun game design.
Thrilling Bonus Features
We all know that what online gaming enthusiasts most look forward to when playing an online slots game of any kind, is a healthy selection of bonus features. The good news is that the Aureus™ casino game most certainly does not hold back in this regard. The main highlight of this title is, of course, the COINVERGE™ feature, triggered when an open bracket is matched with its corresponding closing bracket in the same row. When this occurs, the coin collection area between the two brackets will be triggered. The lightning feature, which is triggered at random, adds an open bracket to the same row as a closing bracket, to create an active collection area. The feature will come to an end when all the coins available in the active collection area have been awarded. Then there is the Aureus™ Respins bonus, which is triggered when collecting a Respin coin in any active collection area. Players can land up to eight Respins if this bonus round is triggered. Multipliers of up to 5x are also on offer here. If you're someone who prefers to understand all of the finer details of an online slot, then simply visit the info page of the game prior to commencing play for a detailed explanation on the rules of the game.
Microgaming's Expertise
You get software providers, and then you get software providers. And there's no denying the fact that Microgaming is amongst the best of the best. Launched back in 1994, this software creator played a pivotal role in not only the launch of the very first online casino, but also the design and creation of the very first online casino games. There's no theme, feature or storyline that Microgaming has not ventured into, resulting in a portfolio of games that are popular amongst players around the world. As the name behind the Aureus™ online casino game, players can look forward to the same impeccable quality that Microgaming has become known for, when firing up this online slot – irrespective of the chosen device.
Great Gaming At Spin Casino
Microgaming and Spin Casino have been a power couple since Spin Casino first opened its virtual doors in 2001. Every month, Spin Casino unveils a new online slot game, ensuring that its selection of games is always exciting. Aureus™ joins a wide selection of titles from Microgaming, providing players in Ireland with an online casino experience that is a little different from what they have come to expect from conventional 5-reel video slots. Spin Casino is licensed by some of the most prestigious licensing bodies in the industry, ensuring that all members interacting with the site have access to high-quality casino games in a safe and secure environment.