Hold'Em Poker 2
Online Casino, Entertainment, Technology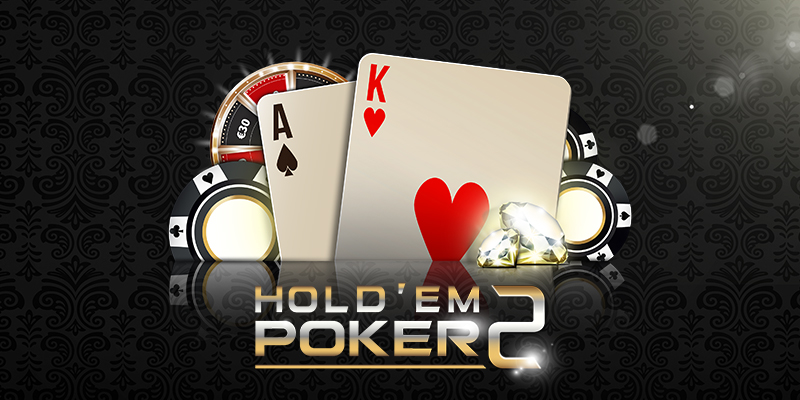 For passionate online casino players, nothing thrills quite like a new release. Except if it's a Microgaming new release, that is – then it's even better. Today, the spotlight's on Hold'Em Poker 2: a 2021 Sit & Go game with big personality and even bigger potential payouts.
Geared towards iOS and Android players, this tournament-based poker variant is easily enjoyed on desktop too, boasting dynamic scaling as its played. And, because it rides on Texas hold'em's international popularity, Hold'Em Poker 2 is a natural choice for online poker enthusiasts around the world, Ireland included.
Is it available at Spin Casino? You betcha. Mobile and desktop players can check it out under the table games section, a quick scroll away from our online slots and other super-fun casino games.
Overview & Highlights
A no-limit hold'em variant that's played in a Sit & Go tournament format, Hold'Em Poker 2 asks for a minimum €2 buy-in. Re-buys and add-ons aren't included here, but with prize pools in excess of €10 000, win potentials remain impressively on-point.
Highlights include a random prize pool wheel, a progressive jackpot, and an exciting mixture of winner-takes-all and 50/30/20 payout allocations.
General Texas Hold'em Rules
New to online and mobile casino games? The good news is that Hold'Em Poker 2 is super-easy to get the hang of, even if you've never played a table game before. To start, let's cover the basics of a typical Texas Hold'em tourney played in real time. This will prep you for any virtual Hold'em tournament, whether you're playing a live casino or online game.
At the start of the round, each player will be dealt two cards. Only you will be able to see your hand, because it'll appear face-down to everyone else. The value of these two cards will help you decide on which betting approach to use: Either a See or Raise bet.
The first bet type lets you match an existing bet amount made by another player, while the second gives you a chance to place a higher bet than your competitors.
When everyone around the table completes their bets, the Flop occurs. This is when a further three cards are dealt, but this time, they can be seen by all players. These three cards are added to the first two cards a player receives to make up their hand.
At this point in the game, everyone's given the opportunity to See or Raise a bet once again. Here's where another face-up card is dealt. This is called the Turn.
But wait, there's more.
The final betting opportunity is known as the River, and this is where the final card of the round is dealt and players place their closing See or Raise bets. Following this, it's time for the big reveal. Players lay out their cards one by one to see who the ultimate winner is.
Suddenly, the expression 'Poker Face' makes much more sense, doesn't it? Inside tip: Online casino players don't need to practice hiding their reactions to a hand. Bonus!
The Hold'Em Poker 2 Difference
While it follows the same rules as Texas Hold'em, Microgaming's Hold'Em Poker 2 is unique for two distinct reasons. The first is that it's super-exclusive. Only 3 seats are available per Sit & Go tourney, meaning you would be up against two other players if you choose to activate it with a €2 buy-in.
The second is that a wheel-spin determines the prize you're playing for. If the segment pointer lands on the progressive jackpot section of the wheel, you'll be playing for a potential €10 000 prize plus a progressive jackpot amount.
The third is that while most potential payouts are awarded to one winner, there are a handful of outcomes that split the prize 50/30/20, giving players the chance to score a share of the total pot instead.
Microgaming Creations
A leading casino game supplier since 1994, Microgaming is known for quality, variety and fairness. Besides thrilling online slots, their mobile-friendly casino games range from virtual table games to video poker, progressive jackpots, bingo and more. Hold'Em Poker 2 is just one of its many 2021 releases and we're expecting more great things in future.
Online Poker At Spin Casino
Hold'Em Poker 2 can be played by mobile and online players at Spin Casino, and is one of many fun table games available. While Microgaming supplies most of our virtual menu, we also offer Texas Hold'em variants from Evolution Gaming, which are played in HD and real time. Of course, Hold'Em Poker 2 is unique in so many ways that it's truly a current one-of-a-kind.
New to Spin Casino and not sure what to expect? We're a licensed entertainment site with 24/7 live chat, international banking partners and over 600 quality games, including online slots, virtual table games and live casino offerings. Promotions are optional and fun is 100% compulsory!