How To Play Video Poker At Spin Casino
Entertainment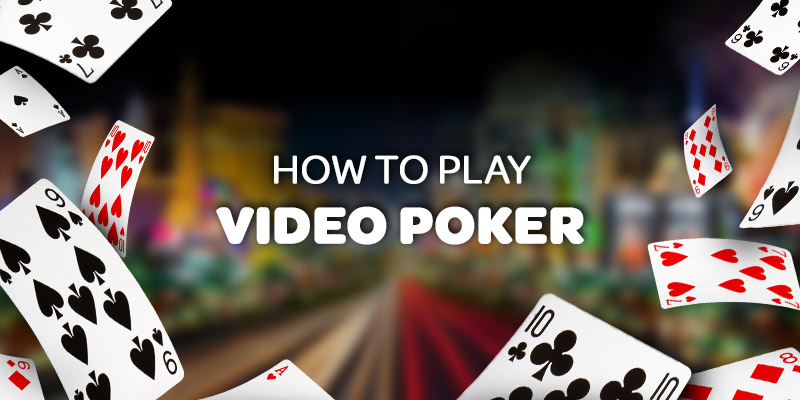 It may seem intimidating at first glance, but video poker – much like its offline counterpart – is actually a pretty easy game to get the hang of. Today, we'll be showing you just how simple it is to get started, with a quick tutorial that covers what video poker is and how to play it at an online casino. We'll also cover some of the most common poker hands you'll come across during play.
To kick things off, though, it's important to highlight bankroll management and chat about why effectively managing your money is so important, especially in the online or mobile casino space.
Stick To Your Budget
Before you start playing video poker, online slots or any other casino games, consider setting a budget and sticking to it. At Spin Casino, you'll be able to browse and set up a range of responsible gaming tools, including daily, weekly, or even monthly deposit limits.
While deposit limits are an important aspect to keeping in full control of your gaming, deciding how you'll go about potential post-payout spend is also well worth some thought. Not just that, but some video poker, live casino or offline poker games could call for more than one bet to be placed per round.
If you're already a Spin Casino member and want to set up deposit limits next time you log in, simply navigate to your username and activate your account menu. Then go to Help, find the Responsible Gaming tab and after expanding it, click or tap on the relevant menu item to set up your limits.
Next up, you'll need to learn some basics.
Know The Rules
Video poker is an online or mobile form of 5-card poker, a popular card game traditionally played offline with a 52-card deck. Similar to online slots in look and feel, video poker is extremely straightforward to play, without the many mechanics and features that other casino games contain.
The objective? In video poker, your single-minded goal is to beat the dealer's hand by out-ranking them with a set of 5 cards. How can you be sure the dealings are fair in a game of video poker? Because online and mobile casinos use RNG (random number generator) software to run their games. It's like having your own personal virtual dealer around.
There are plenty of video poker or live dealer poker games you can choose to play, but regardless of the one you settle on, the basic rules should be the same. At Spin Casino, we have a range of games to choose from, including virtual Hold'Em Poker, Aces & Faces Poker, Jacks or Better Poker, Double Double Bonus Poker and more.
Place Your Bets
Before the game starts, you'll need to pick your bet size. You're welcome to adjust your coin size as well, or simply use the default bet and coin size automatically selected for you.
Next, click or tap the bet button. Your bet amount will be deducted from your balance, and you'll get a set of 5 face-down cards in return, flipping over to reveal their values. This set of 5 cards is known as your hand. Remember, to win the round, your hand needs to outrank the dealer's.
This is why it's so important to get to know the various poker hands. After you receive your hand, you'll be given the opportunity to hold your entire hand or replace one or more of the cards in your possession.
If you want to replace any of your cards, it's as easy as clicking or tapping the card to receive a new one. Remember, though, that you can't take this decision back. Your replacement card is your second and final chance to potentially score a better hand.
Now comes the moment of truth. Your cards are weighed up against the dealer's, and whoever has the better hand in their possession wins.
Some video poker games have a gamble feature, which is available to activate, following a win. Here, you'll have to correctly guess the outcome of a card flip, predicting whether it'll be black or red for a chance to double your payout, or hearts, spades, diamonds or clubs to possibly quadruple your bet.
An incorrect guess means you won't score anything extra. It also means you'll forfeit your original win amount.
Learn Your Hands
Finally, the best thing you can do to make playing video poker a bit easier is to learn the different types of poker hands out there. If you're just starting out, it helps to have them written down somewhere, or even displayed on a screen close by. If you're playing on desktop, you can keep your smartphone or tablet next to you with the hands displayed for easy reference.
What hands should you look up? For starters, check out the Royal Flush, Straight Flush and Four of a Kind. These are the 3 top-ranking video poker hands, which pay out individually according to the relevant poker game's paytable.
You should also check out the Full House and Flush. These rank below the Royal Flush, Straight Flush and Four of a Kind, but above the Two Pair and Pair – the last two hands we recommend looking up in your web browser.
Remember that video poker paytables will only list the hands as we have them here, and not explain their contents, so it's essential for you to know which group of cards makes up which hand.
Explore 500-Plus Casino Games
Besides popular video poker variants, Spin Casino has hundreds of live dealer poker games to choose from, on top of mobile-friendly online slots, progressive jackpot games and table games like blackjack, roulette and baccarat. Even better? Many of our Microgaming-powered casino games can be sampled in demo mode on desktop using no-deposit demo credits.
Safe, around since 2001 and complete with a handy casino app, Spin Casino also has a great range of promotions, including a new player bonus that qualifying players can claim on registration. If you enjoyed this how-to guide, you might find some of our other blog posts helpful, where we explore trending mobile casino topics, new game releases and other how-to game guides to help you play with complete confidence, no matter which online games you're playing.
Until next time, have fun, and don't forget to set yourself up for success by using our many responsible gaming tools on login.