Meet Sarati
Exclusive, Fun, Roulette

When you think about roulette, the glittering lights of the Vegas Strip and the lavish casinos of Monaco and the French Riviera instantly come to mind. But these resplendent settings thrive on characters that are equally as glamorous and intoxicating, which is the main idea behind Real Roulette with Sarati.

Sarati is the charming and enticing figure at the centre of this roulette game. She welcomes players into the lap of luxury and provides colourful commentary as you play, making you feel as though you're in the VIP room of a high-end casino. She's your guide through the high-stakes, fast-paced world of roulette and a new spin on the classic mobile game formula. Using a professional actress, a director and post-production team and the magic of Hollywood cinematography, Real Roulette gives online gaming a fresh new face – literally. Throw in a collection of state-of-the-art features and a jackpot of 64,500 and you've got a new generation of casino at your fingertips.

Source:Microgaming
Sarati Brings the Stats
Every good player knows that statistics are a key part of success in a game of roulette. Knowing what numbers are hot, which colours have been paying out and what segments are due a victory is a key part of forming your strategy and, hopefully, winning the big prize. But you don't want to have to track that yourself; you want a quick and easy way to track what's going on and to make informed decisions.
Sarati provides a handy Statistics button, which gives you access to all of the figures that you'll need to analyse the game and the patterns in the past one hundred spins. You work hard for your money, so you want to place your bets with as much information as you can get your hands on, which is where this comprehensive data comes into play. Whether it's about the segments that have been repeatedly paying out in recent games (and are therefore unlikely to continue their streak much longer!) or which numbers are most prone to hitting, everything you need to plan a successful strategy can be found a quick click away!
Sarati Cuts Out the Repetition
We've all had that same experience – you're playing your favourite online casino game and you finally come across a betting strategy that works perfectly for you. You're elated, but, when it comes time to place your next bet, you have to go through the entire process again. No big problem, right? Let's add a third and fourth and fifth bet to this and you'll see that the entire process can get a little bit exhausting.
Sarati's effortless charm translates into the way she runs her table, meaning she wants to remove the difficulty from the way you play. The result is the Favourite Bets feature. It is possible to save up to six bet configurations, so you can choose a selection of your favourite set-ups and store them for future use. It gets better, too. Click a button and your menu of Favourite Bets appear, allowing you to place your bets with a minimum of effort. That means no more waiting, no more filling in the same information over and over and more time to enjoy the game and your free time. Sarati's got you covered.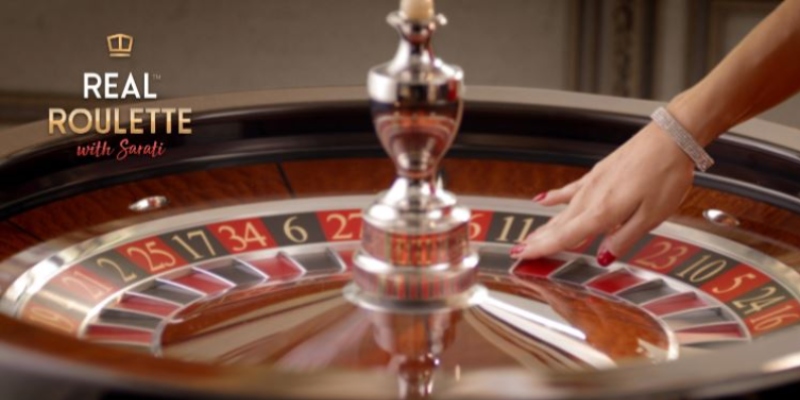 Source:Microgaming
Sarati's Strategic Suggestions
The key to being to a good hostess is ensuring that every guest is catered to, from novices to experienced players and seasoned pros. For the former, Sarati provides a selection of Special Bets, which comprise ten tried-and-tested betting strategies that you can access with the push of a button. This allows amateurs to come to terms with the different options that are available to them, including classics like Orphelins and Voisins du Zero, and find the style of play that works for them. It's not just newcomers that benefit from Sarati's suggestions though.
Experienced players will probably be familiar with her ten special bets already and they'll know which ones they like and which ones they don't. They can use this quick-access menu to cut out the lengthy betting process and place their bets at a faster pace. That means they can get on with the serious business of vying for that jackpot.
Step Inside Sarati's Establishment
Exclusively available at Spin Casino until 31 December, Real Roulette with Sarati is a giant leap forward for online casino apps. With a real, interactive person at its centre and a focus on an immersive, personalised experience, you'll be transported to the opulent world of high-end casinos, all without getting off the couch. What more could you ask for?