Mobile Gaming Popularity is on the Increase!
Mobile, Gaming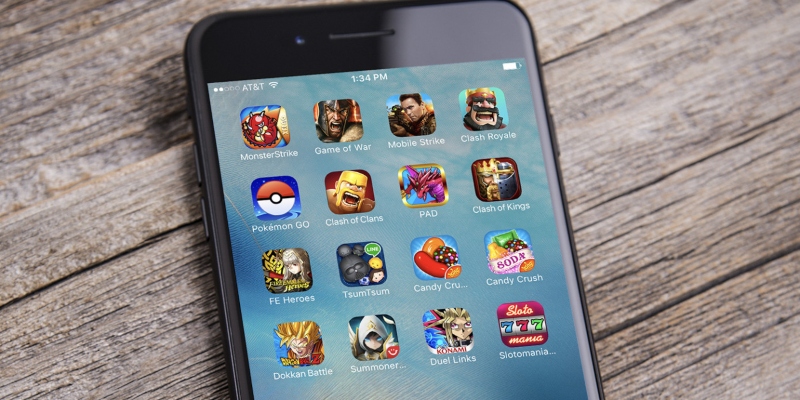 Source: Sarah Perez, Tech Crunch
It's no secret that the modern world is reliant on the mobile phones, and the incredible popularity of these devices has spread far and wide. According to MediaKix, the global mobile gaming market is booming – it's forecast to grow at least 60% before 2023. The trend is here, people are moving away from computer gaming to their mobile devices. You can also jump onboard and access Spin Casino via your mobile browser for convenience, and have access to our online casino anytime and anywhere!
According to Anchor Capital, in 2018, mobile gaming revenue accounted for 50%-plus of the global games market as it reached $70.3bn, with its market share predicted to rise to 59% by 2021. To contextualise this performance – the $70.3bn in revenue generated by the global mobile gaming market last year was c. $30bn more than total 2018 global box office revenue of $41.7bn (itself a record).
Currently, the ten most powerful participants in the mobile gaming space are the following corporations - Google (USA), Apple (USA), Activision Blizzard (US), Sony (Japan), Tencent (China), Electronic Arts (US), Nintendo (Japan), Ubisoft Entertainment SA (France), and Gameloft SE (France).
The biggest gaming market in the world in China, accounting for over 28% of the global gaming market. Majority of players in China and Japan have moved away from computers to portable devices, such as smartphones and tablets.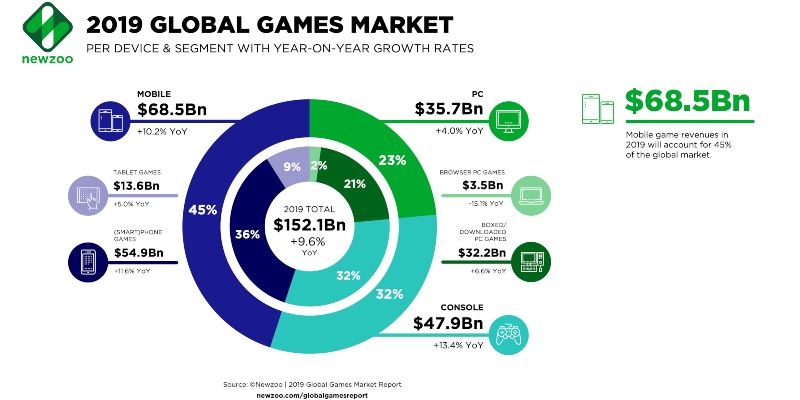 Source: ©Newzoo
Due to this trend in the use of new mobile technologies, mobile gaming apps are becoming more popular and readily available. This has undoubtedly contributed to the phenomenon, and it has made access to all your favourite casino games much easier when you are on the go. For example, even though Japan makes up less than China in the global gaming revenue, Japanese mobile players spend, on average, 50% more than their American counterparts, and 150% more than European players! That's just incredible!
Mobile Gaming – Massive Contributor to the Global Economy
One of the biggest growing trends, however, is the growth of mobile gaming. Two major global trends have contributed to this development. One is the legalisation of online gaming in several jurisdictions across the world, and the other is the rising popularity of mobile users who prefer to get their gaming thrills from the smaller screens.
As mobile technology continues to develop, this trend is looking stronger and stronger, with multitude of players giving up on their laptops and PCs, and going straight for their tablets and smartphones. These devices are portable, small, and convenient to use when relaxing or waiting in queues, and they come with gamers everywhere they go.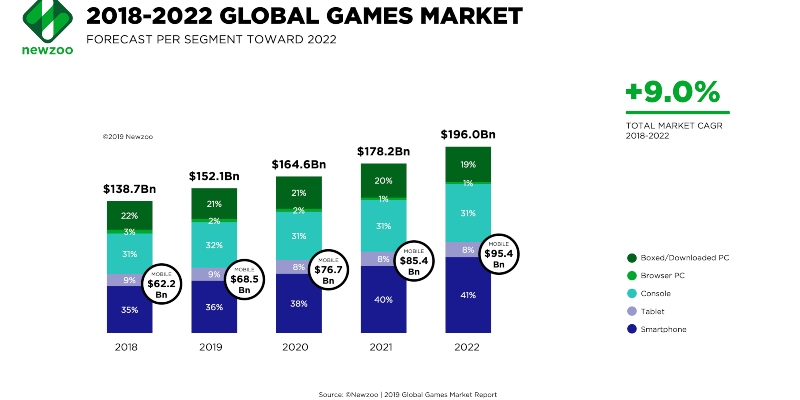 Source: ©Newzoo
Technological Contribution to the Mobile Experience
The mobile gaming revolution is undoubtedly due to the significant technological advanced in mobile technology. Increased mobile internet usage, 4G networks, faster speeds and a worldwide massive drop in the plan costs have opened up the Internet to numerous people around the world. And, due to this, the gaming industry is thriving.
Similarly, gaming operators are now developing games both for the iOS and Android users. They are investing deeply in research and development, providing their users with the best possible experience and player satisfaction. At the same time, payment providers have simplified their services and access across all platforms, which makes it super easy for gamers to find a mobile gaming app, download it, hook it into their banking information and enjoy gaming from their phones. Many different gaming experiences are available to players, however in particular, there is a huge growing worldwide trend for sports better and online lotto.
The future of the industry is looking great. The gaming industry is projected to grow by 2023, and it's projected that by year 2020, over 70% of the world's population will own a mobile phone. Most of these will be smartphones. For example, on the African continent alone, already over 800 million mobile phones have been registered in the last few years – making Africa a huge participant in the mobile gaming, payments and banking.
It is clear that both the mobile technologies and the mobile gaming industry are here to stay. With the huge popularity of mobile telephony and online computing, there is no doubt that this is going to be one of the biggest future industries. Anyone wishing to grow their business in this online industry should keep an eye on the new trends in online gaming and stay abreast of all upcoming mobile technological developments, both hardware and mobile gaming apps.