A Quest For Gold Awaits
African Quest, Game review, Safari slot, Adventure slot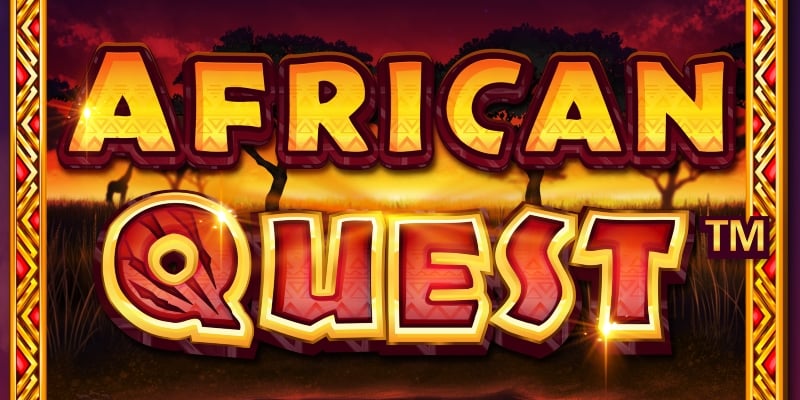 Source: Microgaming
Prepare yourself for a big adventure when you play African Quest, an exciting new addition to the selection of online slots at Spin Casino online casino. It has awesome special features like HYPERSPINS and re-triggering free spin rounds, giving you tantalizing win opportunities. The safari starts on January 21st, 2020, and you won't want to miss it.
Become the king of the wild
The center of your African Quest is the majestic king of the wild, Kubwa the Lion. His vibrant golden mane will get you thinking of all the gold you'll bring home from your adventure. You'll happen upon a lot of other beasts in your quest, too, from the docile giraffes and zebras to powerful rhinos and elephants. But it's the lion who's at the top of the food chain, and he'll bring you the most winnings when you spot him on the reels. When you harness his power, you'll share his throne as king.
African Quest online slot is set up on a four by five slot reel, including tiles for each of the animals, a sunset tree Wild tile, a golden coin Scatter tile, plus King, Queen, Jack, 10, and 9 tiles for smaller wins. Take a chance every time you spin the reels and see where your safari will take you next.
The game's vivid design was done by Triple Edge Studios for Microgaming, delivering an optimal playing experience no matter your device. You'll enjoy the peaceful grasslands setting and warm sunset as you immerse yourself in everything the wild has to offer.
Win big with HYPERSPINS
There's no need to settle for a smaller win when you play African Quest. After each spin in the base game, you get to decide if you want to spin a single reel again to make your winnings even better. Check the amounts at the bottom of each reel after your initial spin and see how much the chance costs. You can spin as many times as you want to complete a win—so you don't have to stop until your search is over.
Wild and free
African Quest is as packed with features as the plains are with creatures. Look for the sunset tree Wild symbol which will help you complete winning patterns. It can substitute for any symbol except the Scatter.
The gold coin Scatter symbol will boost your winnings, because they pay in any position and are added to your regular winnings. They get multiplied by your bet to make your winnings even more impressive.
And if you're looking for free spins, collect three or more gold Scatter coins in a spin to unlock the free spins round. It's a choose your own adventure scenario: you get to choose a Free Spin option at the start of the round. Depending on how many Scatters triggered the Free Spins round, you'll choose anywhere from 5 to 40 free spins with different multipliers. Opt for more free spins with a lower multiplier or fewer free spins with a higher multiplier.
It doesn't stop there—you can re-trigger the free spins round by landing two or more scatters during a free spin. This exciting side adventure will make your safari even more memorable. Plus, any wins that include wild symbols will award you a randomly selected multiplier based on the feature you chose. Multipliers are combined, giving you up to 64x your bet, and apply to wins throughout the round.
The king of Africa has something to offer too—look for pay lines including high-paying stacked lion symbols for a handsome reward.
Source: Microgaming
Game stats
With five reels of four symbols each, African Quest was a whopping 1024 pay lines, so you have the chance at tons of winning combinations. There is a 23.99% hit rate and very high volatility. In the free spins round, the volatility will depend on which feature you choose. The RFP ranges from 96.02% in initial spins to 96.52% with re-spins.
African Quest offers a range of betting options so you can choose how big you want to play. If you want to play a casual game, the minimum bet starts at .10, or take a chance at max winnings with the bet limit of 15. You can replay the same bet throughout the game, or adjust it on screen whenever you're feeling particularly lucky. You'll always be able to see your win amounts and credits at the bottom of the screen so you can watch your gold stack up.
There's no need to take off to Africa for a safari. When you play African Quest in your favorite online casino, you'll feel like you're in the thick of the grasslands. You can play on your mobile device for a safari experience no matter where you are, or you can play on a larger screen to put you in the middle of the action…because you never know what you'll see. Will it be a flock of zebras or the elusive lion, his mane blowing in the warm breeze? There's only one way to find out. Your safari awaits this January, so load up your backpack and grab those binoculars to seek your riches in Africa.