Attack on Retro City
Online casinos, Slots, Microgaming, Retro, 80s, Cyberpunk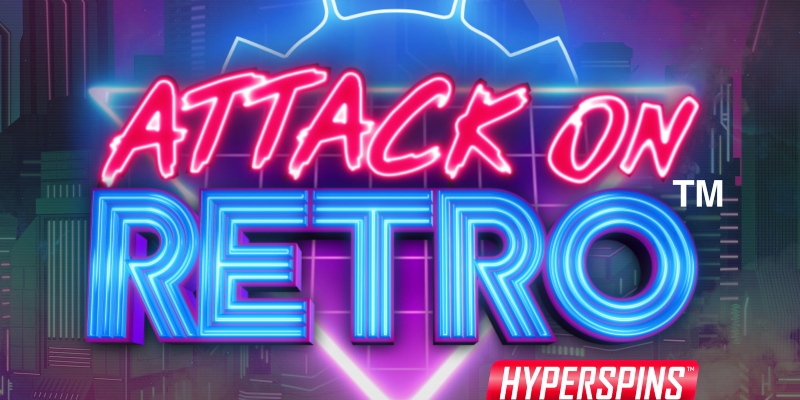 Source: Triple Edge Studios
It is the year 2187 and robot aliens are invading planet Earth! The last city standing is Retro City, a tribute to all things 80s, and robots will not stop until they have killed all the totally awesome phat neon signs, man! Take a chill pill, you say? As if!
Retro City needs you! Help cyberpunk heroes Billy and Jesse take down the threats with laser beams that turn robots into Random Wilds and your wager into 5,000 times your original stake! In Microgaming's newest adventure, it pays to be courageous!
Whoa… Neon!
The symbols of Attack on Retro are meant to take you back… to the future. The theme is the futuristic eighties and the online slot game revives boom boxes and neon signs by giving them a cyber galactic twist. At the higher end of the pay table, you will find upscale hover boards, laser keytars, sound wave boom boxes, and robot hands. The lower end of the pay table is populated by neon signs of the card royals (Jack, Queen, King, and Ace). Billy and Jesse, the cyberpunk heroes of Retro City, constitute the Wild Symbols that grow into Stacked Wilds if you dare to laser enough angry robots. The two Wilds will substitute for any symbol except each other and the Scatter symbol.
The Scatter symbol is simple in design but mighty in power. A triangle with a neon "Free Spin" sign on it, the Scatter only appears on reels 2, 3, and 4, but pay in any position and a match of three gives you twice your total bet. Three or more Scatters unlock the Free Spin rounds with Stacked Wilds and customized features.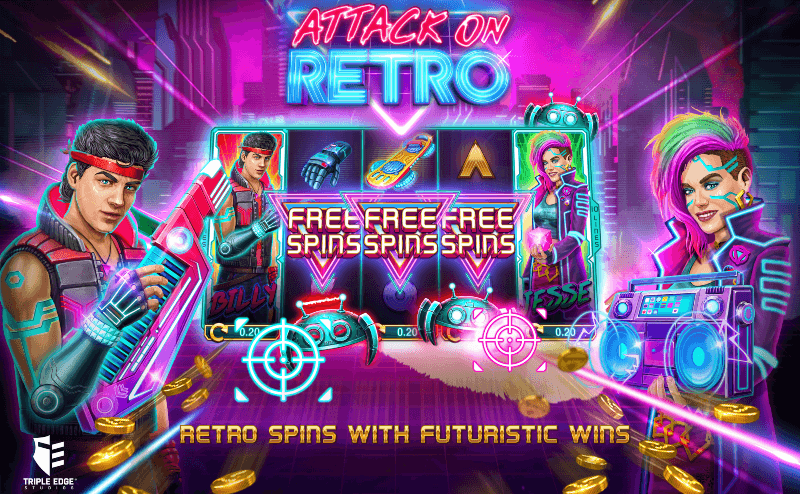 Source: Triple Edge Studios
In It to Win it!
Attack on Retro is a high volatility slot with a payout percentage of 95.58. It consists of five reels with 10 fixed paylines. To win on a line, players must match three or more consecutive symbols from left to right. This straightforward base game is fun on its own, but gets interesting fast with the Scatters, Random Wilds, and Respin features.
Three or more Scatter symbols trigger the Free Spin rounds where you get to choose how to play. The options are: two Free Spins with 5x multiplier, five Free Spins with a 2x multiplier, or ten Free Spins with only a 1x multiplier on your wager. Will you choose more Free Spins or higher multipliers? Either way, you'll get a greater chance to win because the Free Spin rounds feature Stacked Billy or Jesse Wilds on the first and last reels.
If you want to see more of Retro City's Billy and Jesse, then you are going to be totally amped by the Random Wilds feature. Wilds will appear during the base game or the free spin rounds when a laser hits a robot alien on the reels. Wilds will then be revealed at random and players can get any number of them in different positions. Expect to get up to 15 Wilds on the base game and up to 3 Wilds on a single reel on the Respin round.
The Respin rounds are optional and at your disposal at any point during the base game. At the end of any base game spin, players can choose to Respin a reel (any reel) as many times as they want, for cost. It works by pressing a button at the base of your chosen reel (each reel has a Respin button) and setting an extra wager amount to cover the cost. You can respin however many times you would like at any point during the game, but you can only respin one reel at a time. During this feature, only wins that involve a respun reel are paid.

Source: Triple Edge Studios
Book on over to Spin Casino
The good news is that you do not have to wait a million years (or 167, to be exact) to avenge Retro City and claim wins of up to 5,000 times your wager. Attack on Retro debuts on March 3rd (of this year), so prepare to jam to punk rock music with Billy and Jesse and combat robot aliens to win big!
While you wait, visit us at Spin Casino where you will find a vast variety of slot games for your futuristic and nostalgic preferences. Whether you are looking to practice for free or are ready to bet and win big, our online banking service will keep you and your money safe while you play. And if you have not played with us yet, we have a $1,000 signing bonus with your name on it. Don't wait, book on over to Spin Casino! Retro City is waiting for you!