The Boom of Mobile Apps for Online Gaming
Mobile, Gaming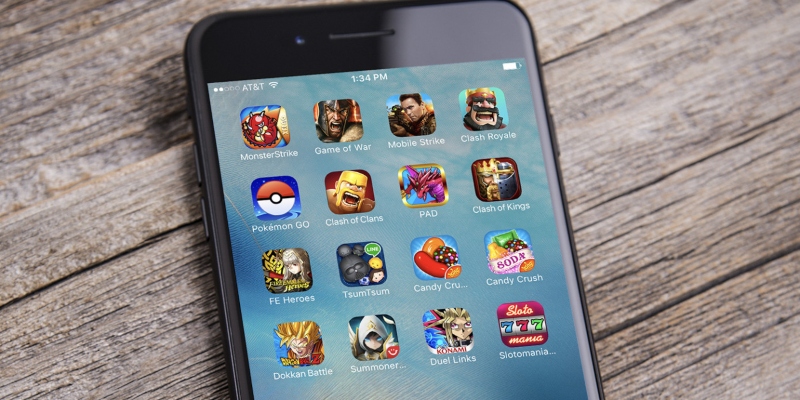 Source: Sarah Perez, Tech Crunch
Throughout the last decade, the use of mobile apps has transformed the gaming world at a blinding rate. And the worldwide mobile gaming industry is only slated to grow faster at a rate of 60% between 2018 and 2023. This exponentially increasing pace of mobile use is also directly affecting online casino gameplay. Gamers who already love online gambling on their desktops have been rapidly downloading casino apps in recent years, appreciating the convenience and slick cross-platform accessibility such as Spin Palace in the palms of their hands. With this boon of mobile casino games, many new players have also flocked to online gambling, greatly inflating the industry.
Statistics Show Massive Surge
According to Statista, mobile gaming is supposed to reach $106bn in revenue by 2021. This is a staggering fact, given that the mobile gaming industry was only pulling in $12.7bn in 2012. In two more years, the industry's revenue will have increased more than 730% over a span of nine years.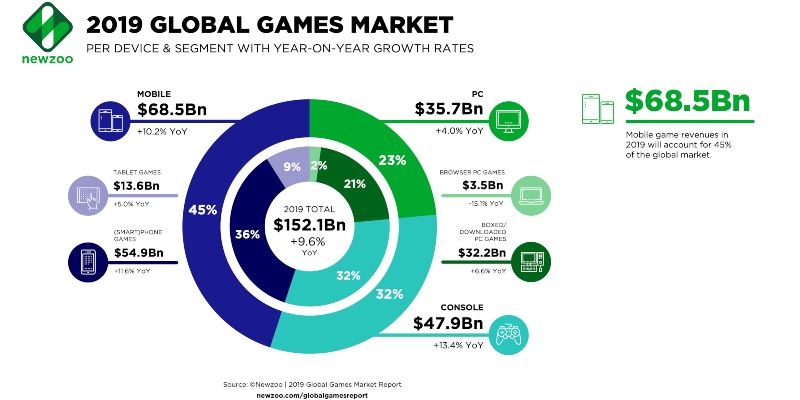 Source: ©Newzoo
Similarly, statistics from Juniper Research published that in 2015 the global online gambling industry was purported to amass $550bn. According to the same study, by the end of 2021 the industry should take an exceptional leap to $1 trillion, amounting to a 42% increase in six years.
Investors have also certainly taken notice. Within the last 18 months investors have sunk $9.6bn into the global gaming industry, considerably increasing the amount of investments since 2018 compared with the rest of the decade.
The Reason Behind the Blindingly Fast Growth
People love their smartphones and other mobile devices. Average daily mobile device usage has already usurped television consumption by eight more minutes per day. By 2021, daily mobile use should eclipse television watching by more than 30 minutes. Apps and smartphones are the new TV, in ways television never could provide to curious, entertainment-hungry consumer.
Why are people so attached to their smartphones and tablets, especially for gaming? Whether it is racking up satisfying combos with Candy Crush or playing multiple online blackjack rounds with a virtual dealer, at the heart of the "why" behind mobile gaming buzz is the speed and heightened technology. Internet accessibility, lightning fast 4G speed, next-level 5G on the horizon, and an influx of budget-friendly smartphone options have contributed greatly to the surge in mobile use around the globe.
Naturally, gaming operators and software designers have also been at the forefront of mobile technology that keeps users strapped to their phones. Developers of Android and iOS phones and apps continually conduct extensive research on trends and technological breakthroughs to provide cutting edge player experiences and user interfaces. Payment providers have also jumped on the mobile bandwagon, making it as easy as two clicks to access their services from a wide variety of platforms. When it comes to casino apps, you can see how this combination of high-speed apps and convenient mobile pay services expedites an unstoppable trend in the online gambling world. Never before has it been so easy for users to download a casino app, enter their bank info, and start spinning slot reels.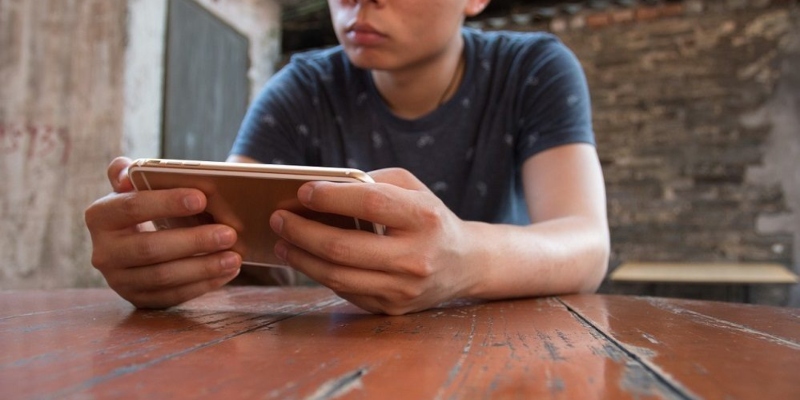 Source: AppWrap
Why Mobile Casino Gaming Is Extremely Popular
Obviously, mobile platforms make it easy to invest in casino gaming. But why is mobile casino gaming really taking off? Here are three major aspects offering insight into the extraordinary jump in mobile use.
Convenience – Convenience is huge. Individuals can play their favorite mobile casino games anywhere, any time. Whether in the comfort of their own home or on the train to work, all you need to do is take out your mobile device of choice and you can play to win whenever the notion strikes you.
Many players also like to just play casino games in short bursts. They don't want to set aside a large chunk of their day to go to a land-based casino and they don't even want to be tethered to their desk to play on their home computer. Mobile allows absolute freedom.
Selection and Access – Selection and access are also key reasons behind the mobile gambling popularity. Many online casino apps pack an astounding selection of slot titles and table games to keep gamers busy for hours without a trace of boredom or monotony. Many apps also allow for live casino gameplay, creating a virtual casino feel with instant access and customization.
Hyper Casual Gaming – This gaming trend has permeated many online apps for years and is causing a ripple effect in the online casino world. By definition, hyper casual gaming involves a repetitive and usually addictive game that builds on each level as the player captures increasingly difficult combinations and scores. Think Angry Birds or Candy Crush Saga. Many slot titles, filled with multipliers and free spins depending on how many combinations you land, are based on the hyper casual model.
Reflect on your own mobile gaming use and see how your mobile casino habits match the general arc of mobile app popularity. You are part of a new mobile frontier, with the speed of continuously innovative technology and slick, satisfying gaming interfaces at your fingertips.