Iconic Blackjack Players
Entertainment, Gambling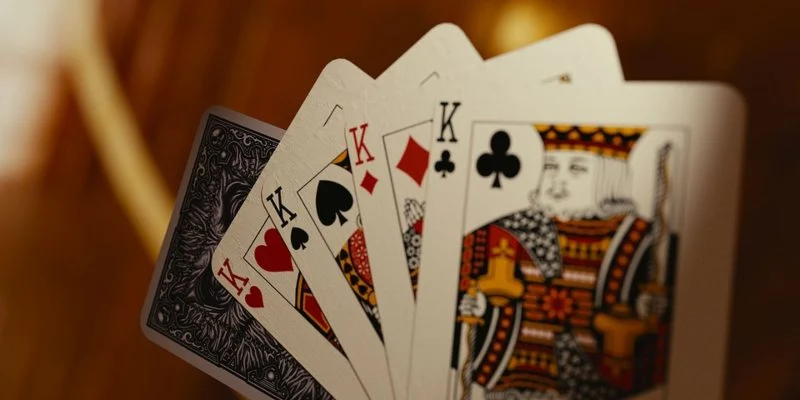 Source: Pixabay
In the world of Blackjack, the most iconic heroes are those who have pushed the game forward. These heroes have either changed the game forever, championed those who excel at the game, or become champions themselves. More often than not, these characters are excellent with numbers. The most iconic players of all time are immortalised in the Blackjack Hall of Fame. They possess a special something that allows them to excel at tables from Las Vegas, to Atlantic City, to online blackjack and beyond. Let's explore some of the greatest players to ever play the game and see what earned them their places as the kings of Blackjack.
A Blackjack history lesson
Blackjack is the modern and Americanised version of a 17th century gambling game known as Vingt-et-Un. Players who know their French will recognise that this translates to Twenty-one. Twenty-one began to gain traction in North America some time in the 19th century.
The modern name of Blackjack was derived from a special bet offered by American casinos of the time. This special bet gave players ten-to-one odds on being dealt an Ace of Spades as well as either a Jack of Clubs or Jack of Spades. Though the Blackjack bet eventually disappeared, the name did not.
Learning the Blackjack basics
Every game of Blackjack involves all the players at the table playing against the house, represented by the dealer. To win against the house a player needs to achieve a total card value that is close to or exactly 21. Players and dealers should take care to not go above 21 or they will "bust", which means they lose instantly.
If a player manages to get their score to exactly 21, or gets closer to 21 than the house, or gets as close with fewer cards, then they win. A win pays out with one-to-one odds equal to the amount wagered. If the house busts, then all players that haven't bust are winners.
Both the players and the house have a chance to instantly win if they are dealt a "Blackjack", also sometimes called a "Natural". A Natural consists of an Ace and any 10 value card such as the 10 card, or a face card. Hitting a natural when the house does not counts as an instant win for a player, who then receives 1.5 times their bet back. However, if a player and the dealer both hit a Natural, then the player only receives their bet back with no extra winnings.
Check out the comprehensive and definitive guide to blackjack for a roaring start.
Blackjack Hall of Fame history
The Barona Casino in San Diego, California has been home to the Blackjack Hall of Fame since the Hall of Fame was established in 2002. The original concept for the Hall of Fame was to introduce a way to pay respects to the players and experts who have helped pioneer the modern game of Blackjack.
Those inducted into the Hall of Fame also receive the promise of free food, board and beverages from the Barona for life. The one condition of this bonus is that the player must promise to never play Blackjack at any of the tables at the Barona.
The original 7 members of the Blackjack Hall of Fame were picked through a process of public voting in late 2002 and early 2003. More players have been added to the Hall of Fame each year since 2003. Voting is no longer carried out by the public and only attendees of the Blackjack Ball are invited to cast their ballot.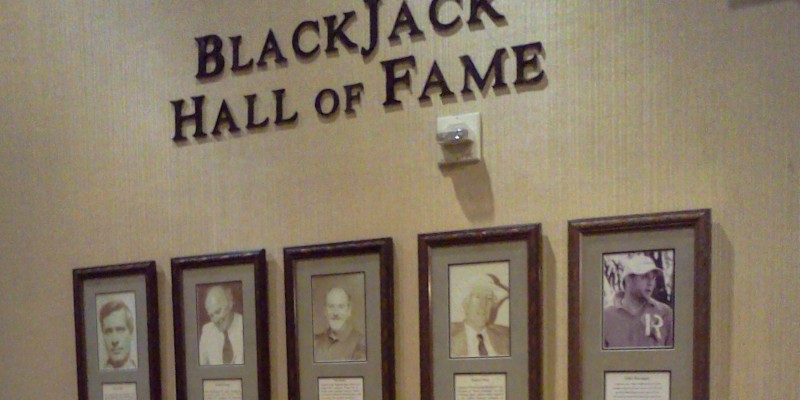 Source: Wikimedia Commons
The lucky seven
The original 7 players inducted into the Blackjack Hall of Fame were Edward O. Thorp, Al Francesco, Ken Uston, Arnold Snyder, Stanford Wong, Peter Griffin and Tommy Hyland. Let's take a look at each one and what they did to move the game of Blackjack forward. 
Edward O. Thorp
Thorp should be a name familiar to any aspiring Blackjack player. As a genius mathematician, Thorp used his skill with numbers and computers to author Beat the Dealer in 1996. This ground-breaking book layed out Thorp's mathematical Blackjack method which came to be known as card counting. This method involved counting cards as they are dealt in order to figure out the statistical likelihood of a player's chances of winning.
Thorp's book was wildly popular amongst Blackjack players and led to a surge in the popularity of the game. Card counting was made illegal in some casinos, but this led to boycotting of the game which forced casinos to invent other methods of countering would-be card counters.
Thorp also used his statistical research and the methods learned through gambling to win at the ultimate casino in the world, the stock market. Today he is the manager of a successful hedge fund called Edward O. Thorp & Associates.
Al Francesco
Following in the wake of Edward O. Thorp was Al Francesco who improved upon the strategies laid out by Thorp's book. Francesco invented the concept of team card counting which made card counting more difficult to spot by casino security. This method required a team of players sitting at different tables to stealthily work together to exhaust the dealer's shoe cards. Then, when the time was right, one of the players would step in and make big bets that were statistically likely to win.
With a long and successful career in gambling, Francesco's exploits in Blackjack were enough to net him a place in the original 7 Hall of Fame inductees. Today he manages a company in California that helps high rollers safely and legally transfer their money in and out of the United States.
Ken Uston
Uston rose to Blackjack in the 1970s as a player in Al Francesco's Blackjack team. His notoriety as a high-roller and card counter saw him banned from casinos across the world. Uston was forced to disguise himself in order to play in casinos that banned him from playing.
While Uston had a successful gambling career that netted him millions of dollars, he also made his name as a gambling author and expert witness. His crowning achievement in this regard was his groundbreaking New Jersey Supreme Court victory that cemented his casino bannings as unlawful in the state.
Uston died of heart failure in 1987 at the age of 52, but his legacy lives on in the Blackjack Hall of Fame.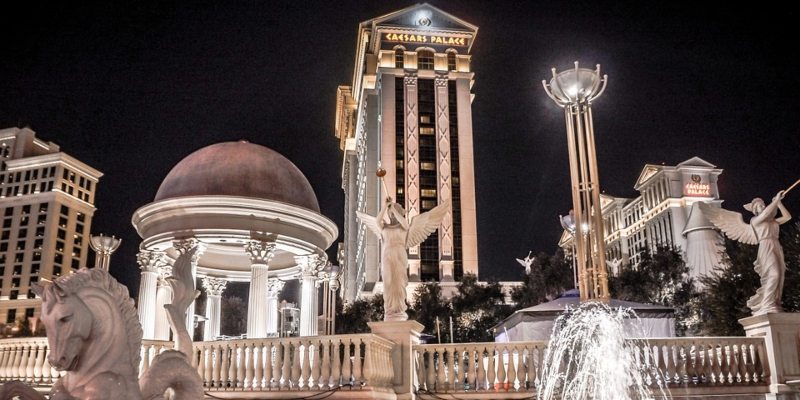 Source: Pixabay
Arnold Snyder
While Snyder is a notable Blackjack player in his own rite, he is more well known for his work as a gambling writer. Snyder honed his knowledge of Blackjack over many years of playing low stakes games and reading as much as he could on the subject. The Blackjack Formula was his first book on Blackjack and he has since released many more in his bibliography.
Snyder still writes about gambling and Blackjack, and today runs a popular gambling blog called Blackjack Forum Online. He is considered one of the foremost authorities on gambling journalism today, earning him a place in the Hall of Fame.
Stanford Wong
Stanford Wong is the pseudonym of John Ferguson, author of the1975 book Professional Blackjack. Ferguson is credited as the inventor of "wonging", a system that involves scoping out Blackjack tables without betting until such time as the card count becomes favourable to wade in. Many modern casinos enforce rules of "No Mid-Shoe Entry" as a result of this wonging system.
Ferguson still writes extensively about gambling and owns Pi Yee Press, a publisher of gambling books about all types of gambling subjects. He has earned himself a place in the Hall of Fame for his efforts.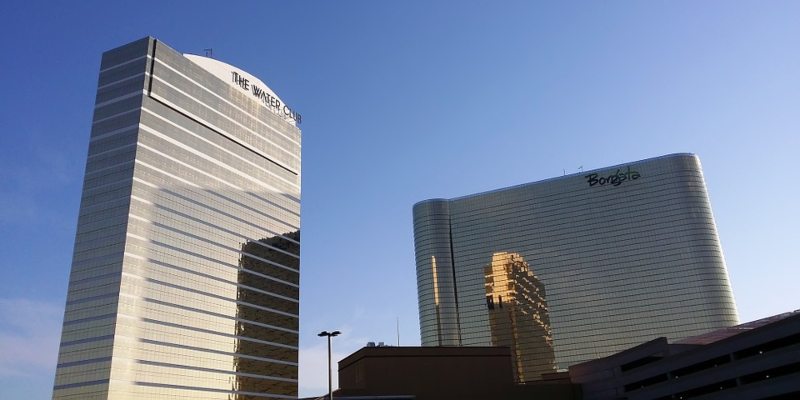 Source: Pixabay
Peter Griffin
Griffin is another gambling academic in the vein of Edward O. Thorp. His book, The Theory of Blackjack expanded upon Thorp's work to explore the mathematics underlying Blackjack. While Griffin has experience as a player, he maintains that his doing so was merely for academic research rather than individual profit. His work may not have earned him much of a payday, but Griffin's altruistic contributions to Blackjack were enough to secure him a place among the 7 founding members of the Blackjack Hall of Fame.
Tommy Hyland
Hyland's prolific career in Blackjack began in 1979 when he decided to become a full-time Blackjack player. He invented a simple high/low system that he boasts can be learned in as little as 20 hours. Hyland used this system to take casinos for millions until he was wrongfully arrested and accused of cheating in 1994. Since then he has rarely played Blackjack, but his statistical prowess has been immortalised in the Hall of Fame.
Legends in the making
The original 7 members of the Hall of Fame are exceptional and are honoured for paving the road for so many modern Blackjack players. By reading the books or learning the stories both by or about them, and our article with a comprehensive and definitive guide to blackjack, mobile Blackjack players can learn a bit about everything that has shaped the game that's played today. We at Spin Casino salute these great players and everything they have done to make the game better for players everywhere.