Meet Your Exclusive Roulette Hostess
If you've ever wished to see a familiar face greeting you as a VIP at your own private roulette table, then you won't want to miss your chance to meet Sarati. Real Roulette with Sarati is a unique online roulette game that offers the authentic casino roulette experience without having to take off to Vegas. Play the limited release now, exclusive to select online casinos like Spin Casino until December 31st.
Bringing Vegas to the palm of your hand
Real Roulette with Sarati lets you experience the luxury lifestyle first hand. With Sarati, you're always treated like royalty, and you'll get first-class treatment whenever you sit down at the table. If you've ever lusted after what's behind the doors of the VIP room, prepare yourself for a game changing experience.
Sarati is the dream dealer. Your charming blonde hostess wears a red cocktail dress and a winning smile and makes sure you get the closest thing to one-on-one VIP treatment without ever having to leave home. No matter when you decide to play, she's always there to make winning even sweeter.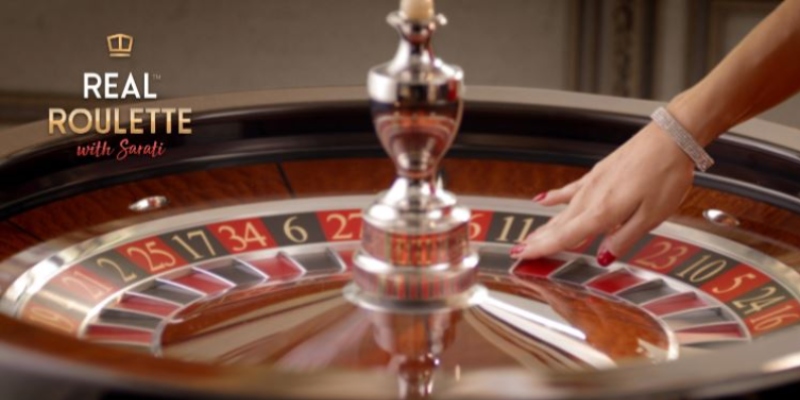 Source:Microgaming
A cutting-edge experience
Real Roulette with Sarati is the product of careful work by Real Dealer for Microgaming. Instead of offering just another roulette game, they had the idea to give players an experience that's as authentic as possible, using a professional actress and the finest in cinematography and engineering. The sound effects and imagery will immediately transport you to the roulette lounge of your dreams, and Sarati calling out your bets is the perfect lucky charm to keep your winning streak hot.
To give you a truly vivid experience, Real Roulette with Sarati streams high-quality video to your device of choice. That means gameplay is fluid and nonstop, so nothing can hold you back. Whether you choose to play on your smartphone in landscape or portrait or get a bigger look at the action on your desktop, you'll never have to complain about lagging graphic. And if you're playing on mobile, interruptions are no sweat—you can resume playing afterwards, and everything will be just like you left it.
Place your bets
Whether you're an old pro at the roulette table playing your favorite go-to bets, or you've only played a few times and you're still getting the hang of it, you'll love the fast-paced action of roulette. In Real Roulette with Sarati, you'll always have a view of the table so you can place your bets with confidence. Or, if you have go-to bets, you can program your favorites in the settings so there's no break in the action. Choose up to 6 bets that will be available with just the tap of a button.
Real Roulette also offers a selection of popular special bets, like Zero Game, Red/Black Splits, or 007. Plus, besides the standard European roulette layout, you'll have the option to play Racetrack bets too, with a different table layout and bets to keep things interesting time and time again.

Source:Microgaming
See what's hot
If you like to play strategically, you'll love the statistics options available in Real Roulette. The game allows you to see data from the last 100 spins, including hit percentages for each number, range, and color. The stats feature also pulls out hot and cold numbers so you can plan your next moves. Or, follow your gut and impress Sarati with your luck.
Real Roulette with Sarati has a 97.30% payout percentage and low volatility. With a total hit frequency of 48.65%, you'll stay on the edge of your seat with every spin. If you want to play a low-stakes game, minimum bets start at just 0.25, or you can shoot to win big with the max bet of 1000. You can win up to 64,500 to cement your status as a high-rolling VIP.
Don't hesitate
You don't have to choose between sacrificing convenience and sacrificing your gaming experience anymore. When you play Real Roulette with Sarati, you'll have both. The casino will be in reach no matter how far you live from Vegas, and it's always open. Plus, the ease of mobile gaming means you can play a quick game whenever you're feeling lucky.
If you want to be part of the exclusive group to play at Sarati's table before the end of the year, now is your chance. The current release is exclusive to a small number of online casinos, so claim your seat at the table and get your winning streak started.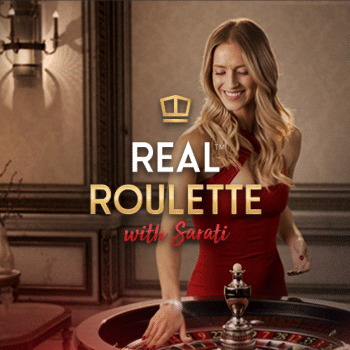 Source:Microgaming