Chicago Gold™ Review: Oozing 20s Glam
Gambling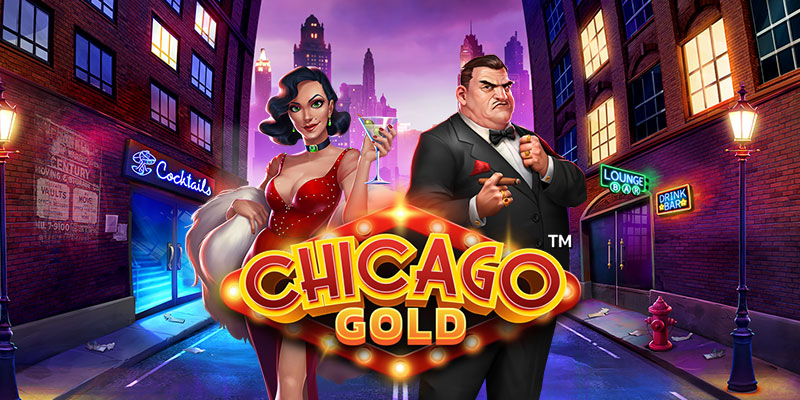 Source: Microgaming
There's an all-out street war on the go. And Big Boss – the Chicago Gold ™ top dog – plans to win.
Set in the seedy underbelly of one of America's most populous cities, this online slot hits hard and fast. Gangsters, guns, cash. Dirty cops and the obligatory Femme Fatale. Microgaming and Pear Fiction Studios didn't spare any details in its creation. And it makes for one hell of a ride
Joining over 500 slots at our online casino, Chicago Gold™ packs 5 edgy features. Among the most eye-catching? A jackpot bonus game with Mini, Minor, Major and Grand prize pools.
Big Boss Jackpot Bonus Game
Capable of paying out up to 5000x, the Big Boss Jackpot Bonus Game is a crowd-pleaser in every sense of the word. Not only does it offer players a chance to walk off with instant prizes but is triggerable at any given moment, too.
Thrilling to a fault, the Big Boss Jackpot feature appears under 3 unique conditions.
The first is when a Jackpot and Collect symbol combo appear. The second and third is when a Jackpot symbols pairs with a Multiplier Collect or Respin Collect. Jackpot symbols appear on reels 1, 2, 3 and 4 only. Collect, Multiplier Collect and Respin Collect symbols feature on reel 5.
Once activated, the Big Boss Jackpot Bonus Game reveals a pick and click feature. Your mission? To match 3 jackpot symbols. Your reward, if you get it right? An potential instant Mini, Minor, Major or Grand prize payout.
Free Spins Feature
Another bonus game sizzler, Free Spins trigger when Scatters appear on reels 1, 3 and 5. Awarding 8 Free Spins at a time, this bonus round plays out as regular spins do in the base game: On a 5-reel, 5-row grid.
To retrigger another set of 8 Free Spins, players must land another 3 Scatters – one each on reels 1, 3 and 5.
Cash Collect Feature
A distinctive bonus creation, Cash Collect is what online casinos like us call a breath of fresh air. Much like the Big Boss Jackpot Bonus game, it's potentially triggered under unique conditions.
The base rule is that you get one or more Cash symbol on reels 1 to 4. More than one Cash symbol can land at a time.
A non-negotiable, though, is the other symbol required to complete activation. This is a Collect icon on reel 5.
Once the on-screen feature begins, the rules are simple. Cash symbols with random values appear on reels 1 -4. Collect, Respin Collect and Multiplier Collect symbols appear on reel 5.
If you score a Cash and Collect symbol combo, you'll pocket the entire sum of all cash symbols on your screen.
Land a Cash and Respin Collect combo, and you'll also walk off with the sum of all Cash symbols – as well as a Respin. (Fun fact: It's possible to fill all reels and rows with Cash symbols. Ka-ching!)
If the Random Number Generator gods deem it fit, you could also score a Cash and Multiplier Collect combo. Here, Cash symbol values are multiplied up to 5x. The Multiplier Collect symbol in reel 5 will display the Multiplier value.
40 Paylines
Fixed in place, Chicago Gold™ offers 40 paylines. If 3 or more of a kind land on a payline, it triggers a corresponding payout.
Typical of both online and mobile casino games, symbols must land adjacently from the leftmost reel to qualify.
Dynamic Scaling
Thanks to its responsive design, Chicago Gold™ is suitable for cross-device play. Graphic quality is excellent on both mobile and desktop.
Tip: If you're playing on mobile, we suggest disabling automatic screen rotation. This way, you'll play in fixed landscape mode and get the best experience.
High Volatility
What qualifiers determine a slot machine's volatility? How often – and how much – it tends to pay out. As a high volatility game, Chicago Gold™ may take some time to present a potential big win, but once it does, it's generally considered worth the wait.
Award-Winning Slot Creators
Some of you might not know this, but Spin Casino slots were solely supplied by Microgaming when we opened our doors in 2001.
They themselves have been in operation since 1994.
A formidable talent and something of a godfather in online casino circles, they're responsible for the majority of our new releases. And they've won plenty of industry awards over the years, which is always a plus.
Chicago Gold™ at Spin Casino
To play Chicago Gold™ and other Microgaming slots at Spin Casino, you must first create an account. Once signed up, new players will be able to grab a welcome bonus on login. Already a member? You can simply sign in with your username and password when prompted.
Our built-in online search bar lets you find the casino game you're looking for quickly and easily. Selecting DEMO will launch the game in demo mode. If you want to play using real money, you should select PLAY.