Hold 'Em Poker 3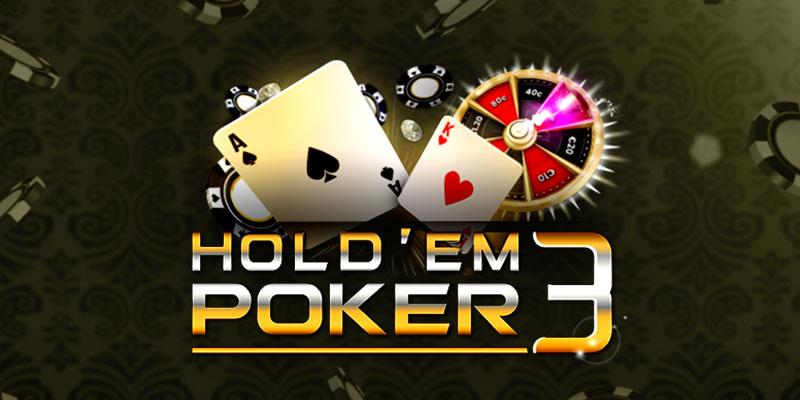 Source:Microgaming
Not so long ago, the innovative and influential casino game software provider, Microgaming, set about introducing a new range of poker games to the world.
In 2021, one of these, Hold 'Em Poker 3 was launched worldwide – and at Spin Casino, of course.  
Here, we'll take a look at not only the game, but how it's added to the richness of the playing experience at this online casino.
But before we go more in-depth, here's a quick taster: Hold 'Em Poker 3 is a multi-player game featuring new avatars, enthralling visuals, portrait table orientation, and a prize pool generator – players can potentially score a progressive jackpot starting at €1,000.
A sophisticated version of Texas Hold 'Em, this stellar Microgaming creation aims to engage players in a realistic poker room atmosphere. What's more, it's a mobile optimised casino game.
Let's explore further!
Basics And Avatars
Hold 'Em Poker 3 is one of Microgaming's latest poker versions. A fast-paced Sit & Go casino game, players buy into a tournament and compete. Buy-in is €0.20, and there are three seats at the multi-player table with each player receiving two cards.
The player is always positioned at the bottom centre of the table. As they are essentially the hero of the game, they'll be assigned a cool new avatar – whereas their opponents will be the "villains" of the game, with suitable avatars assigned to them as well.
As for the RTP (return to player), it's a worthwhile 95%.
Remember, Hold 'Em Poker 3 has also been adapted for mobile devices, so players can look forward to the same excellent quality they'd expect to find on a PC or laptop.
Random Prize Pool Generator
Hold 'Em Poker is an exciting poker variant, which is especially evident when the wheel is in action.
Players will likely watch in anticipation as the spinning wheel comes to a stop, because that is when the prize is determined that each of the three competing participants can play for.
Even more exciting, that prize could end up being the coveted progressive jackpot. Anyone not familiar with how progressive jackpots work are in for a treat. In the case of Hold 'Em Poker 3, the jackpot continues to grow with every tournament that is played – so who knows how much one could ultimately win.
Portrait Table Orientation
As we mentioned previously, Hold 'Em Poker 3 is a version of the popular classic, Texas Hold 'Em, but done in a sophisticated and luxurious portrait table orientation.
What does this mean? Players can immerse themselves in a realistic-looking poker room environment that has the same exclusive look and feel that one would find in other elite table games. Plus, it's scaled to suit all compatible desktop, tablet and mobile devices – we think it's particularly well suited to the latter.
Furthermore, the graphics on Hold 'Em Poker 3 are superb, giving players a casino game that's visually appealing and crisp clear.
Powered By Microgaming
Hold 'Em Poker 3 was given that name because there are 3 players involved in each tournament, plus it is based on the classic Texas Hold 'Em.
It also happens to be the third in a series of poker games by Microgaming, which started with the original Hold 'Em Poker and followed by the sequel, Hold 'Em Poker 2.
Offering a fresh take on an iconic casino game, this latest poker variant is another example of the legendary software provider's commitment to providing players with as much variety as possible.
Players familiar with the name Microgaming, will know that it's been in the game since 1994 – essentially when the world of online casinos was still in its infancy.
Since then, it has gone from strength to strength, creating online and mobile casino games that have dazzled players with their crisp-clear soundscapes, sterling graphics, inventive features, seamlessly smooth gameplay, and simple-to-use navigation.
From online slots to video poker, blackjack, roulette, baccarat, and more, Microgaming has been a pioneering force for years, with multiple awards to their name.
Available At Spin Online Casino
Featuring portrait table orientation, new avatars to look forward to, and a prize pool generator with a progressive jackpot, Hold 'Em Poker 3 is an action-charged multi-player poker variant that's sure to thrill.
In addition, this exciting online and mobile casino game is available to enjoy right here at Spin Casino.
Launched in 2001, this online casino delivers an exceptional selection of casino game titles, as well as trusted and reliable banking options, 24/7 customer support via live chat, fulfilling loyalty perks, regular promos, leading-edge security measures and more.
A fully licensed establishment, Spin Casino also has eCOGRA certification – given for its adherence to fair gameplay and accountable conduct.
Notably, all this is provided in a totally safe and responsible gaming environment, making the playing of games like Hold 'Em Poker 3 an even more satisfying experience.