Bushi Sushi™ Online Slot
Online Casino Games, Online Slots, Microgaming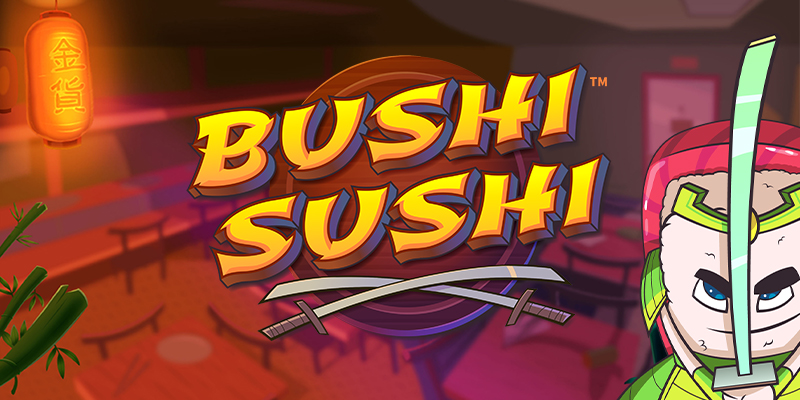 Source: Microgaming
While there are literally hundreds of online slots out there, with themes that encompass everything from fantasy and mythology to espionage and adventure, there is one theme that we don't see all that much of: food. This is certainly a shame – after all, who doesn't love food! Thankfully, the masterminds at both Microgaming and Gold Coin Studios decided to get together and create an absolutely charming online and mobile casino game based on one of the world's most popular dishes: sushi. Love it or hate it, sushi is here to stay, and the same thing could be said of the Bushi Sushi™ online slot – minus the hate part, of course! This deliciously-designed online slot game is packed with fun features, while still being easy to play no matter what one's level of experience. What's more, thanks to the latest in optimisation, the title runs perfectly well on all manner of different devices, from smartphones and tablets to laptops and PCs. Available to play at Spin Casino, a popular online casino which we will discuss in more detail below, Bushi Sushi™ is a delight from start to finish. We review.
The Bushi Basics
Before you ask, the word Bushi is short for 'Bushido', a Japanese word meaning 'way of the warrior.' It refers to the code of honour used by the samurai, Ancient Japan's most royal guards. As such, you can expect to find a combination of both sushi- and samurai-inspired symbols in this title. Bushi Sushi™ plays out over a grid comprised of 3 rows and 5 reels, and while it sports just 10 paylines, these pay out both ways, from left to right and right to left, a rare treat in the world of online and mobile casino games. Probably one of the most breath-taking aspects of this game is (no, not the wasabi!) the betting range. With a minimum possible bet size of just 0.10 and a maximum of 300, this is a game that is bound to be enjoyed by almost every possible type of gamer. We're talking about the newcomers as well as the old-hands, the ones who like to play it safe and keep their wagers small, and those who enjoy going all out and placing bets with triple digits! As with many other collaborative creations of Microgaming and Gold Coin Studios, the various buttons of this online slot can be found on the right-hand side of the screen, rather than at the bottom. The reels are set against a simplistic background featuring bamboo and lanterns, while the audio is ambient and applicable.
Fishy Features And Sushi Symbols
With a name like Bushi Sushi™, you can expect to find a host of flavourful features and symbols on this online casino game. The high value symbols are represented by two different types of nigiri (where the slice of fish sits atop a bundle of rice) and two types of maki (the one with the seaweed wrapped around it). The lower values are denoted by the card royals A, K, Q and J, all of which have been given a bit of bushido flair. The Wild is represented by a little sushi samurai with his katana, and not only does this symbol have the ability to appear stacked on the reels, every adjacent Wild that lands will see him growing and expanding, potentially able to cover a 3x3 position on the grid. In most online and mobile casino games where Wilds appear, they cannot substitute for special symbols – but in this game, they can! The special symbol in this game is represented by a yin-yang (cleverly designed to look like an offering of wasabi and ginger). Landing a minimum of 3 will trigger a round of Free Spins as well as a cash prize, with up to 40 Free Spins being possible as a result of these Free Spins rounds being re-triggerable. Last, but not least, the Double Up feature – a common function in games from Gold Coin Studios – gives players a chance to try and double their winnings from any spin, simply by correctly guessing whether a flipped coin will land on heads or tails.
Served Fresh At Spin Casino
Amongst a host of other games from Microgaming and Gold Coin Studios, Bushi Sushi™ is available to play at our thrilling Spin Casino. In operation since 2001, Spin Casino is a fully licensed operation, and also bears the eCOGRA seal of approval, making it a truly reputable and reliable online and mobile casino. The games on offer include everything from online slots and table games to an interactive Live Casino section. There are plenty of safe and secure banking mechanisms to make use of, while the 24/7 Live Help team is available all year round to assist with any and all account queries. New members can enjoy a generous welcome bonus too (terms and conditions apply), which they can use to check out the magic that is the Bushi Sushi™ online slot.