Gordon Ramsay Hell's Kitchen™ Review
Online Casino, Entertainment, Technology
Welcome to Gordon Ramsay Hell's Kitchen™, where the food is cooked to perfection, the in-game bonus features are seasoned with precision and you get to pick whether you want to join the Blue or Red team. Gordon Ramsay Hell's Kitchen™ is exactly what you know and love, and it's now available to players in Ireland at Spin Online Casino as a video slots game from software provider, NetEnt. Over the years, online slots have been entertaining players with plenty of themes, and cooking remains a firm favourite, especially when it's based on something that we are all familiar with, as is the case with Gordon Ramsay Hell's Kitchen™. There's a lot to talk about and we know you can stand the heat, so let's get into the kitchen and find out more about this online and mobile casino game.
Game Settings
Gordon Ramsay Hell's Kitchen™ is a video slot with 20 paylines and adjustable bet settings of between 0.20 and 400 credits per spin – the game is also available to play in either coins or credits, for those who prefer the choice. Upon launching the game, you'll be greeted by the main chef himself, Gordon Ramsay, welcoming you to Hell's Kitchen™. The spin button bet amount and current win amount columns are all available at the bottom of the screen, and there are also options for a Quick Spin (to let the reels spin faster than normal), as well as the choice to use the spacebar to spin, instead of clicking on the spin button.
Symbols And Bonus Features
Online casino slots are always fun to play, and the various themes make these casino games even more exciting. Gordon Ramsay Hell's Kitchen™ is no different, and is packed with special bonus features, with symbols that match the theme perfectly. As the setting is inside a restaurant, where teams of chefs are all cooking for the main prize, and you, the player, are spinning to activate those bonus rounds, the symbols are those of roast beef, a triple decker hamburger, a cocktail, and a delicious-looking dessert! There are also the usual online casino slot symbols of, in this case, the red hot Ace, King, Queen and Jack. The Hell's Kitchen™ logo, with the now famous pitchfork, is the Wild symbol and will substitute for all other symbols, except the Scatter, to complete possible winning combinations. It's not the end of the Wilds though, as the Ramsay's Wilds feature can be activated at any time during the game, landing between 5 and 7 Wild symbols anywhere on the reels.
Probably the most exciting feature of Gordon Ramsay Hell's Kitchen™ is the Team Challenge Free Spins, which could lead to Gordon's Bonus Game. When the Scatter symbol, which is the glaring stare of Gordon Ramsay, appears on reels 1, 2, 4 and 5 during the main game, the Team Challenge Free Spins feature will be activated – 3 Scatter symbols will trigger 10 free spins, while 15 free spins will be granted when 4 Scatters appear. During this feature, there will be two play areas which will basically be like a cooking competition between two teams, and you will need to pick whether you want to play the feature with the Blue or the Red team. There are also between 1 and 3 Order Up features, which are Multipliers of 2x or 3x, which can randomly appear with each spin and, as they are colour-coded, will be added to the respective team's potential winnings. The Ramsay's Wilds feature is also active with between 3 and 8 Wilds that can randomly appear on the reels. At the end of the Team Challenge Free Spins, a winner will be declared which is determined by the biggest total win. Should you be on the winning team, or if it's a tie, you will qualify for the Gordon's Bonus Game, where you get to select from menus behind one of the following prizes will be hidden: a random prize of 2x, 3x or 5x the current bet, x2 Multiplier or x3 Multiplier.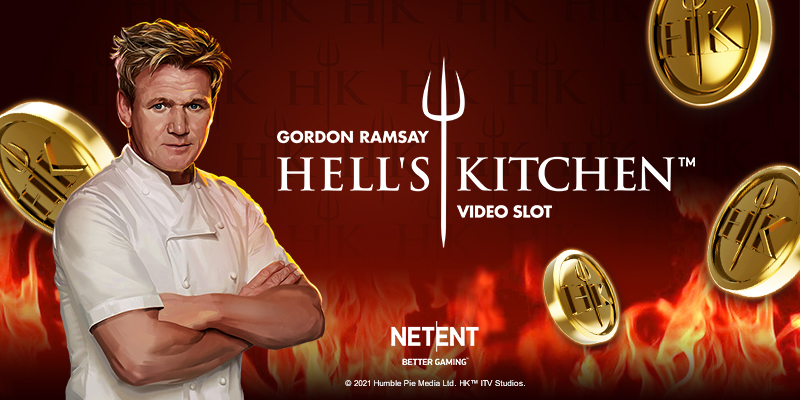 About NetEnt
Software provider, NetEnt presents Gordon Ramsay Hell's Kitchen™, and have, over the years, also provided players with loads of other exciting and familiar-themed games. Known for excellence in online and mobile casino video slots, NetEnt stands out for its great graphics and exciting in-game bonus features, and we're very excited to see what the future holds for this software provider.
Available At Spin Casino
Gordon Ramsay Hell's Kitchen™ is available to play right here at Spin Casino, the home of hundreds of online and mobile casino games from NetEnt and Microgaming. Spin Casino was established in 2001 and is licensed by the Malta Gaming Authority, so you can rest assured that you are always playing in a safe and secure environment. Ready to step into the kitchen and get a taste of Gordon Ramsay Hell's Kitchen™? Simply log in to your existing account or, if you're a new player, register an account and enjoy a full line-up of online casino games.
© 2021 Humble Pie Media Ltd.
HK™ ITV Studios.